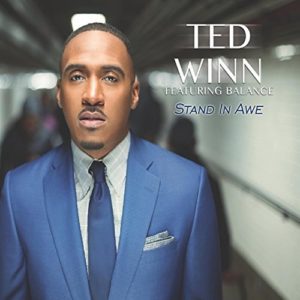 Ted Winn featuring Balance
Stand in Awe
Shanachie Records (release date: September 1, 2017)
www.shanachie.com
By Bob Marovich
First attracting the attention of the national gospel music audience in 1995 as one-half of the duo Ted & Sheri (with Sheri Jones-Moffett), Ted Winn has been a solo artist for nearly a decade.
Winn's latest project, Stand in Awe, continues his commitment to "horizontal" praise songs that are more in keeping with gospel's lyric tradition than the "vertical" Contemporary Christian Music that lofts praises without explicitly acknowledging how God helps his people overcome the life struggles and persistent oppression that cannot be ignored or denied.
In service to his convictions, Winn pins his expressive voice to personal lyrics of overcoming. "The Greatest Power," the opening track featuring Hezekiah Walker and Kevin Lemons & Higher Calling, declares that "Life has its problems, life has its tests / But we continue to triumph because we are blessed."  Quartet queen Lisa Knowles of the Brown Singers channels her inner Vanessa Bell Armstrong when she performs Detroit-style vocal runs during the hymn-like "Safety."  The song's lyrics acknowledge that life happens to everyone; the important thing is to know that safety rests in Jesus's arms.
The storytelling quality of "Be Healed" and its linkage of Biblical-era miracles with the everyday miracles of today is likely to draw listeners out of their seat by the end.
Musically, the album showcases the influence of Winn's many inspirations, among them Richard Smallwood, Andrae Crouch, Thomas Whitfield, Donald Lawrence, the Winans, and Walter Hawkins. Winn and guest vocalist Maranda Curtis, who soloed recently on John P. Kee and the Church Choir's single "Release," interpolate Hawkins's "Be Grateful" in the vamp of the string-laden "Grateful." This dramatic ballad reminds listeners to appreciate what they have, especially since there are so many who have not.
Not enough good things can be said about Balance, Winn's team of background vocalists, named presumably after the title of his debut album. In the liner notes, Winn calls Balance "artists in every sense of the word." Their tight harmonies, range of dynamics, and solid professionalism confirm his comment. The call-and-response between Winn and Balance hits its apex on "I Am Changed."
The album is not without its vertical moments. For example, Winn goes atmospheric P&W by rendering the 2011 Jesus Culture favorite "Fill Me Up," more recently covered by Casey J and Tasha Cobbs Leonard.
Stand in Awe benefits from crisp production and full on sound from brass, strings, as well as the usual wall of instruments employed in the service of gospel music. Horizontal or vertical praises notwithstanding, in an era when the individual singer is riding high, Ted Winn, with more than 20 years in the business, is well positioned to receive his share of attention.

Four of Five Stars
Picks: "Grateful," "Safety."
Written by : Bob Marovich
Bob Marovich is a gospel music historian, author, and radio host. Founder of Journal of Gospel Music blog (formally The Black Gospel Blog) and producer of the Gospel Memories Radio Show.