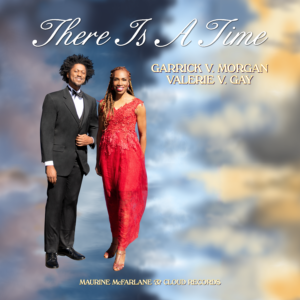 "There is a Time"
Garrick V. Morgan & Valerie V. Gay
Cloud Records (release date: December 20, 2021)
www.cloudrecordsllc.com
By Robert M. Marovich
Garrick V. Morgan and Valerie V. Gay blend their polished and passionate voices on "There is a Time," which transforms Ecclesiastes 3 ("For everything there is a season") into a poignant Broadway-style show stopper.
To a backdrop of lush strings and a hefty rhythm section, Morgan and Gay remind listeners that God "will make everything beautiful in its time." It's what they call in show biz a big number. More importantly, it's a reminder that this, the seemingly insurmountable global anxiety on the political, economic, social, and wellness fronts, shall pass.
"There is a Time" is the latest single from Maurine McFarlane's Cloud Records, a new imprint that has a knack for making beautiful sacred music almost without category. The song is co-written by McFarlane and the song's producer, Austin Woodlin.
Bucking the time-honored system of no new music during the holidays, this single is scheduled for release on December 20, 2021.
Written by : Bob Marovich
Bob Marovich is a gospel music historian, author, and radio host. Founder of Journal of Gospel Music blog (formally The Black Gospel Blog) and producer of the Gospel Memories Radio Show.