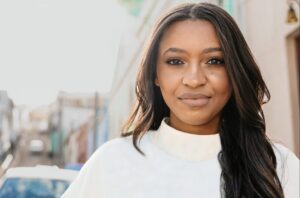 "The Prayer"
Whitney April feat. Rodrick Dixon
Arete Records (release date: September 23, 2022)
https://music.empi.re/theprayer
By Robert M. Marovich
"The Prayer" is a pop song, not a sacred song per se, but it IS a prayer, and hearing it rendered by the angelic-voiced Whitney April teamed with the operatic power of Rodrick Dixon of Three Mo' Tenors, is a refreshing alternative to the more common versions. Interestingly, it was the 2003 cover by Donnie McClurkin and Yolanda Adams that caught Whitney's fancy.
In any event, "The Prayer," produced by Adams's music director, Rodney East, and released last Friday, is a stellar introduction to the young woman from South Africa whose TikTok account has garnered more than 100,000 followers. The recording has true global provenance: Whitney recorded her vocals at her brother's studio in Cape Town, South Africa, and Dixon laid down his part in Chicago. They do sing together in person on the accompanying video.
While I prefer the more straightforward ending of Andrea Bocelli and Celine Dion's version, this is an excellent cover.
Whitney April has signed a worldwide deal with the team that manages GRAMMY® winner, PJ Morton. Sky's the limit here.
Written by : Bob Marovich
Bob Marovich is a gospel music historian, author, and radio host. Founder of Journal of Gospel Music blog (formally The Black Gospel Blog) and producer of the Gospel Memories Radio Show.