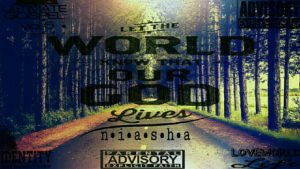 n•i•a•s•h•a
Gospel Mixtape Vol. 5
Loveworld Life (released in August 2016)
hulkshare.com/niashaMawerez
By Bob Marovich
If you need confirmation that gospel music is an international phenomenon, n•i•a•s•h•a's Gospel Mixtape Vol. 5 is proof that praising God in song is global.
Snippets of music from U.S. artists such as Tasha Cobbs, James Fortune, Zacardi Cortez, and California's Jesus Culture can be heard alongside songs by a handful of artists you've probably never heard of, but should. By and large, the other artists represent Nigeria and South Africa, and while they sing in English, they frequently incorporate other languages into the lyrics.
The music on the mixtape reflects the European trend toward melodic, sweetly-sung songs of praise and worship that have more in common with CCM than traditional gospel music. Hence, when artists such as Israel Houghton and VaShawn Mitchell go overseas, they are welcomed with open arms. South African Ikiri Lawrence's "Your Presence" fits firmly in the Mitchell P&W mold.  On the other hand, Peter Tobe's "Imela" has an infectious African swing, as do PU's "Blessed Hands (Iyololo)" and Ada's "Only You Jesus."
Among the most affecting performances are "Cheta" by Nigerian female singer Ada; the lovely "No One Knows" by Sinach, also from Nigeria; Johannesburg's Farlon Lyte rendering "Fire Shut Up in My Bones;" and "Miracle God" from Jo'burg's Viwe Nikita, who appears several times on the mixtape. Most of the songs are worship ballads or otherwise slower or mid-tempo pieces.  I suspect the mixtape combines some of the best of the best from the countries the artists represent.
Interestingly, n•i•a•s•h•a incorporates R. Kelly's "Spirit" and Josh Groban's cover of Rolf Lovland's "You Raise Me Up," and they work well within this format.
Some songs clash during the transitions, the introduction is a tad lengthy, and the thunder claps are a bit much, but the mixtape is a fine introduction to some very talented singers.
Born in Bulawayo, Zimbabwe, and raised in Midrand, South Africa, Niasha Mawere is a singer, songwriter, rapper, DJ, photographer, and the owner of the Loveworld Life label. She has produced a number of mixtapes, all of which are available via her Hulkshare site, which appears above.
Four of Five Stars
Picks: "Cheta," "Miracle God," "No One Knows"
Written by : Bob Marovich
Bob Marovich is a gospel music historian, author, and radio host. Founder of Journal of Gospel Music blog (formally The Black Gospel Blog) and producer of the Gospel Memories Radio Show.