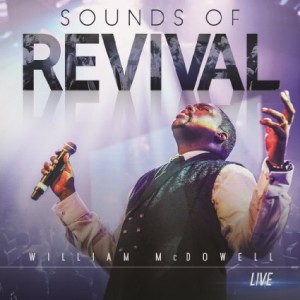 By Bob Marovich
Not two weeks after its January 22 release, celebrated worship leader William McDowell's fourth album, Sounds of Revival: Live (Delivery Room Music / eOne Music), entered Billboard Magazine's Top Gospel Album charts.  It knocked Kirk Franklin's Losing My Religion from the number one position.
Recorded live in Baton Rouge, Louisiana, before an audience of 3,000 people, Sounds of Revival is McDowell's third number one album. It is also the latest chapter of the Grammy-nominated singer-songwriter-worship leader's journey, one that began in Cincinnati, Ohio, and soared when his 2009 "I Give Myself Away" garnered more than one million views on YouTube.
"I always knew I was called to ministry," McDowell told JGM, "but what I'm doing right now is more than I imagined."
To McDowell, the purpose of Sounds of Revival goes beyond worship. "It's purpose is to awaken a cry on the inside for a move of God to happen—not only on the earth but individually. There's a sense many of us have that what some people are calling a Third Great Awakening, or a move of God, is taking place, or about to take place on the earth. We're not seeing a global movement just yet, but we are seeing pockets of this movement taking place around the world."
The new Great Awakening, McDowell explained, is not an expression of dissatisfaction with the current state of worship. "It is about what some people call a 'holy dissatisfaction' for the way that things are in general. A turning away from Godly things, particularly in Western cultures, and the necessity for an awakening or a revival that takes place in the church."
McDowell wrote a majority of the songs of the album, but as is the case with most live gospel recordings, especially worship albums, there is plenty of room for unscripted moments.  Sounds of Revival certainly has its share of unscripted moments.
"If you take one of the songs and sing them in a dead room," McDowell said, "you get a different response than the lively, passionate, hunger for God that these songs are releasing [in the live recording]. It's not the songs themselves but what they stir in the people that take the songs to different places. You cannot script a corporate worship environment. You can't control the hunger that comes from the hearts of the people. You have to get out of the way and allow worship to happen."
Among the album's highlights are solos from some of McDowell's background vocalists, including Travis Greene, whose own project, The Hill, also hit number one on Billboard's Top Gospel Albums Chart.
"[Travis] is of my closest friends," McDowell explained. "He calls me his mentor. I'm honored by that, but we're just great friends. Everything I do, I do out of relationships. At the time [Travis] did [Sounds of Revival], his own album wasn't even out yet. It was just natural for me to want to worship with my brother.  The people travelling with me absolutely have what it takes, and if I have the opportunity to hold the door open for them, why not do that?"
He added: "I don't know if he originated this comment, but I heard the late, great Dr. Myles Monroe say at the end of his life that 'there is no success without a successor.' For many of us, the idea of pouring your life into others is something we think we need to do when we're old, but take the model of Jesus. He recognized that while he was in bodily form, he could not touch every single need of the people. His response was to empower his disciples to do what he was doing. He reproduced himself right on the spot.
"If God is going to give me favor the way that He has, and I see other people who God has called who are gifted, and I can help them get to the forefront, then I am reproducing myself to meet the needs of others."
To this end, McDowell is also considering establishing a school of worship to train other worship leaders.
"Our ministry gets 100 to 200 invitations a month," he said, "and we cannot fulfill all those requests. If we can't physically go there, we can train as many people as possible to have their own sound theological understanding of worship and to go beyond where we can go—to the four corners of the world—so that when we leave this earth, our legacy is bigger than the CDs we made."
Although he is preparing his successors, William McDowell shows no signs of slowing down. For him, his ministry "is an unfolding 'yes.' I said yes to God for whatever He wanted to do, and along the way, He's allowing things like this to happen. So I'm very grateful."
For more information, visit www.williammcdowellmusic.com.
Written by : Bob Marovich
Bob Marovich is a gospel music historian, author, and radio host. Founder of Journal of Gospel Music blog (formally The Black Gospel Blog) and producer of the Gospel Memories Radio Show.