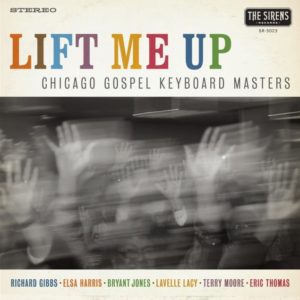 Various Artists
Lift Me Up: Chicago Gospel Keyboard Masters
The Sirens (release date: July 11, 2016)
www.thesirensrecords.com
By Bob Marovich
Those who think traditional gospel music is dead, hapless victim of today's P&W and urban AC influences in sacred music, The Sirens' new release, Lift Me Up: Chicago Gospel Keyboard Masters, is proof that the music of Thomas Dorsey and Roberta Martin is as alive and bracing as ever.
On August 20, 2015, The Sirens Records owner Steven B. Dolins brought together a battery of the city's leading keyboard artists and singers: Pastor Bryant Jones, Richard Gibbs, Elsa Harris, Lavelle Lacy, Terry Moore, Pastor Eric Thomas; vocalists Pastor Donald Gay, Pastor DeAndre Patterson, and Dorothy Robertson; and percussionists Curtis Fondren and Gregory Gay. Recording various combinations of the artists on a repertory of classic gospels and hymns culled from the traditional canon, the result is Lift Me Up. It is a joyous and memory-evoking project, its mixture of instrumental and vocal classics sufficiently powerful to make the devil himself walk up for the altar call.
Pastor Donald Gay, a member of the Gay Singers and brother of the famed Gay Sisters, lends his expansive big band baritone on "Without God I Could Do Nothing," as Richard Gibbs doubles on piano and organ. Gibbs does his level best to emulate the Erroll Garner-esque work of Gay's former accompanist and sister, the late Geraldine Gay Hambric.
If Reverend Eric Thomas demonstrates his facility on piano for hard-driving pewburners, as on "Swing Down, Chariot," propelled zestfully by drummer Fondren, he is equally adept at interpreting meditative liturgical pieces, such as the lovely "Holy Holy Medley."
Gibbs evokes Pastor Maceo Woods's thoughtful organ work on the Tindley gospel hymn/Civil Rights anthem, "I'll Overcome Someday." He also channels jazz organ wizard Jimmy Smith's percussive gurgling organ on "Walk With Me Lord."
Dorothy Robertson, a protégé of Roberta Martin, renders her mentor's favorite hymn, "What a Friend We Have in Jesus," just as Bert did it, with a flatfooted delivery guaranteed to wreck a church. The song becomes a medley; Robertson continues with "I Need Thee Every Hour" and "Shine On Me," as Jones accompanies on organ. Jones demonstrates elements of Dorsey's barrelhouse piano on "I'll Fly Away," and sings "I Am Redeemed" as a slow burning church wrecker.
Speaking of Roberta Martin, Pastor DeAndre Patterson—a young man with an old soul—delivers "From Out of Nowhere" with characteristic spirituality and zest, a latter-day Roberta Martin Singer.
Jones and Thomas duet on piano and organ, respectively, on the classic though under-recorded "He's My Everything." I would have loved to hear Catherine Austin Baymon lend her vocals to this instrumental rendition, as it is her trademark solo.
Most striking about this album is the intuitive interplay between technique and inspiration, and how people can be moved by just keyboards, voice, drums, and tambourine (Gregory Gay encourages the ensemble with verve on the tambourine). As such, this CD is comparable to Anthony Heilbut's 1993 production of the surviving gospel legends, The Soul of Chicago.
The lifelike production that has been the standard for all The Sirens is equally at work on Lift Me Up, placing the gospel musicians and singers in your living room. Or better yet, transporting you to a Chicago church gospel music program.
Five of Five Stars
Picks: "Swing Down Chariot," "Without God I Could Do Nothing."
Written by : Bob Marovich
Bob Marovich is a gospel music historian, author, and radio host. Founder of Journal of Gospel Music blog (formally The Black Gospel Blog) and producer of the Gospel Memories Radio Show.