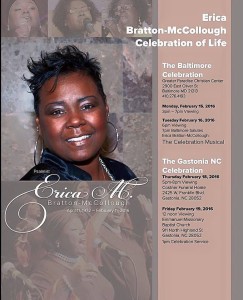 By Bob Marovich
The year 2016 is not even two months old and is already looking like it will go down in history as The Year the Music Died.
One more gospel artist, and a young person, no less, has left this earth for her eternal reward.
Erica Bratton-McCollough, 43, a North Carolina native, was an early member of Donald Lawrence's Tri-City Singers.  Many remember her work in particular on the ensemble's "When the Saints Go to Worship."  She died February 11, 2016, after an extended illness.
According to Gregory Gay of GOSPELflava, Bratton-McCollough was also a stage actress and contributed vocals to the soundtracks of the motion pictures Boycott and The Associate.  Prior to her passing, Bratton-McCollough was Music Director of the Greater Paradise Christian Center in Baltimore, Maryland, under the leadership of Overseer Shawn Bell and Lady A. Faye Bell.
The Journal of Gospel Music extends its sympathies to her family, friends, and many fans.