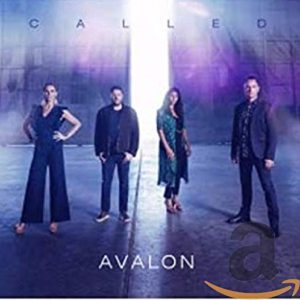 Avalon
Called
Red Street Records (release date: February 14, 2020)
www.redstreetrecords.net
By Bob Marovich
Called is Christian power group Avalon's fourteenth album but its first in a decade.
It is also the group's debut CD for the Red Street imprint, an enterprise formed several months ago by Jay DeMarcus of Rascal Flatts and Don Koch, both of whom produce the new album.
If the lyrics are laser-focused on the universal themes of praise, worship, and encouragement, the musical foundation shifts from song to song in a well-crafted sequence. The title track is a high-energy ballad about discipleship. The current single, "Keeper of My Heart," bounces along on a thrumming tempo. "Great is the Lord" is a megachurch-sized anthem of praise. The magisterial "Sacred Ground," from the pens of Bernie Herms and Michael Neale, is ready-made for the Lenten season. It is likely to find its way into the repertories of church music ministries, if it hasn't already.
Propelled by a march tempo and sugary-sweet pop chorus, "Lanterns" summons believers to walk forward fearlessly in faith, a direct-action variation of "Burn the Ships" by the Christian band for King & Country. "Glitter and Glory," written by Ian Eskelin, Tony Wood, and Francesca Battistelli, employs an up-tempo dance track, a style typically associated with extravagance, to warn listeners to not be fooled by the extravagance of diamonds and other shiny possessions. "Don't want to gain the whole world and lose my soul," the vocal quartet sings.
Much of the album's variety comes from the full palette of songwriters that Avalon pulls on for its playlist. In addition to Herms, Neale, and Wood, other contributors include Jeff Pardo and Chris Cleveland.
Although the ten songs on Called are individually distinctive, they are tied together by soaring melodies, an insistent musical underpinning that brims with optimism, and flights of mid-range vocal harmony. Avalon works squarely within the current CCM strategy of blending adult contemporary music with modern country flourishes and youthful harmonies. This combination has been successful for artists such as Lauren Daigle, who appeals to listeners who might otherwise never partake of Christian music.
The Grammy-nominated and Dove Award-winning Avalon is comprised of Greg and Janna Long, Jody McBrayer (a founding member recently returned to the fold), and new member Dani Rocca.
Called is a delightful listen, not likely to get worn and tired, even after multiple spins.
Four of Five Stars
Picks: "Keeper of My Heart," "Sacred Ground"