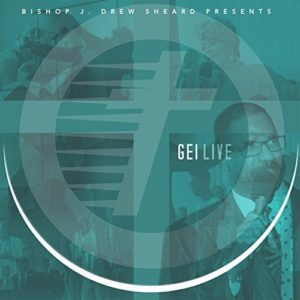 Bishop J. Drew Sheard Presents
GEI Live
Karew Records (release date: September 30, 2016)
www.karewrecords.com
By Bob Marovich
GEI Live is a family affair: church family and blood family.
Recorded live on August 17, 2015, at Greater Emmanuel Institutional (GEI) Church of God in Christ in Detroit, Michigan, Bishop J. Drew Sheard Presents GEI Live finds the extended and esteemed gospel singing Clark Family and the GEI membership all-in.
The album's key messages of hope, faith, trust, and the importance of praising God for always having our back and keeping His promises are particularly relevant in this post-modern world.
The bliss points of the CD, produced by J. Drew Sheard II and Derrick Starks, come when the Clark Sisters—individually and collectively—step front and center. As a collective, the sisters deliver an ode to hope and trust, "Look to the Hills," in charismatic staccato harmonies and finger-waving swagger. GEI First Lady Karen Clark Sheard solos on the rousing "I Owe You Praise," a post-storms-of-life celebration when faith is rewarded with blessings. Accompanied only by B3, Dorinda Clark Cole is a seasoned church stomper on the hymn, "I'm In His Arms." A bonus track, "I'm Delivered," features the musical gifts of Twinkie Clark.
Although a single, "Hang On" is not one of Kierra Sheard's stronger performances. She sounds out of breath and playfully distracted on the first verse, and doesn't slip into her comfort zone until the second. To these ears, the other single, "Press On," led by Bishop Sheard, is not only stronger but one of the album's finest tracks. It is a satisfying traditional handclapper featuring Sheard singing, shouting, growling, and whooping his calls to the choir's response. It has the kind of forward propulsion for which COGIC is so well known.
A sleeper, "Never Let a Day Go By," which contains the album's thematic premise of praising no matter what, has the Clark Sisters' strut and evangelism in its backbone. If one judges the quality of an album by the lasting appeal of the songs, this selection certainly belongs in the plus column.
Kudos to the GEI Mass Choir for being the anchor, the ever-present energetic force underpinning every track on which they participate. GEI Live has enough traditional and contemporary turns to please gospel audiences of all ages.
Four of Five Stars
Picks: "Press On," "I Owe You Praise," "I'm In His Arms."
Written by : Bob Marovich
Bob Marovich is a gospel music historian, author, and radio host. Founder of Journal of Gospel Music blog (formally The Black Gospel Blog) and producer of the Gospel Memories Radio Show.