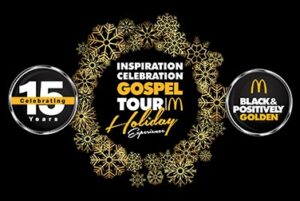 By Robert M. Marovich
On Sunday, December 12, at 8 p.m. ET, McDonald's USA will deliver the gift of music to McDonald's fans through its Inspiration Celebration® Gospel Tour Holiday Experience.
Yolanda Adams, Kurt Carr, James Fortune, The Walls Group, and Brian Courtney Wilson, and featuring BET's Sunday Best winner Stephanie Summers, will grace the virtual stage to ring in the season with some of their chart-topping hits and holiday carols and gospel music.
The show, hosted by multi-award-winning musician and syndicated radio personality Lonnie Hunter, will air on BET Network's YouTube Channel. 
In addition to their solo spots, the artists will come together to premiere "Christmas Spirit," a song written and produced by Chicago-based gospel artist Sir the Baptist. Written exclusively for this Holiday Experience, the tune merges traditional gospel music with contemporary hip-hop sounds.
During a recent telephone interview with JGM, Brian Courtney Wilson said he was invited to take part in the Holiday Experience because of his previous participation in the McDonald's Inspiration Celebration Gospel Tour. "It's always a treat to work with [music director] Donald Lawrence," Wilson said, "as well as with artists like Yolanda Adams, the Walls Group and the others. It was a plus that the program was taped at Pastor Keion Henderson's Lighthouse Church right here in Houston, where I live."
Wilson will be performing songs from his four-song EP, At Christmas, released in October. "And," he added, "maybe a surprise or two!"
Raising funds for the Ronald McDonald House Charities is why Wilson is especially excited to be part of the Holiday Experience. "I got a first-person view of how we are helping when I had a chance to tour Ronald McDonald Houses in Houston and Chicago," he said. "It's amazing how the houses alleviate the stress of the children and their families at a very difficult point in their lives."
Meantime, Wilson's album Still has performed well, despite the pandemic, which Wilson said has been a time for him "to prioritize and focus on the things that are most important in my life." Besides earning Soul Train and Dove Award nominations, Still landed Wilson at the number five spot on Billboard's Gospel Artist of the Year list. To him, the honors are but "special bonuses" in his overall mission to bring joy, hope, and encouragement to God's people.
Still's message of faith is what Wilson said he would tell his much younger self, if he had the chance. "I'd say, 'Be still in your heart and mind, work hard, and trust the process. Don't get caught up in chasing after whatever validation you think you need. Be true to yourself and to your heart, and trust that God will show up with the resources you need.'"
Wilson's Christmas plans are to do what he has done for the past five years: fly to Detroit on Christmas Eve to minister at Triumph Church's Christmas Day service, then fly back to Houston to be with his family for dinner and an evening "spent in our pajamas," he laughed.
In terms of new music for 2022, Wilson is still "thinking about what to say next." Meanwhile, he wants everyone who has supported him down the years to know how grateful he is to them. "We've come a long way – fifteen years – and I couldn't have done it without the support of people who gave me the opportunity to be heard," he said. "I very much look forward to honoring that support in the years to come."
The McDonald's Inspiration Celebration Gospel Tour Holiday Experience is the fifth and final stop of the annual tour, now in its fifteenth year. For more information on the McDonald's Inspiration Celebration Gospel Tour Holiday Experience, and how to tune in, visit: www.blackandpositivelygolden.com.
Written by : Bob Marovich
Bob Marovich is a gospel music historian, author, and radio host. Founder of Journal of Gospel Music blog (formally The Black Gospel Blog) and producer of the Gospel Memories Radio Show.