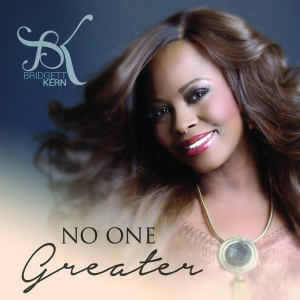 Bridgett Kern
No One Greater
Dream Label Group (release date: August 7, 2015)
www.bridgettkern.com
By Bob Marovich
Although not advertised explicitly as such, Bridgett Kern's new Praise & Worship project, No One Greater, is a live recording.
That's a good thing, as P&W comes off best live. After all, the style was created to enliven the live worship experience. I would argue that almost all gospel music sounds better live, but that's a discussion for another time.
Back to No One Greater. The first portion of Kern's CD features the energetic and effusive P&W singing and hard-hitting musicianship heard in megachurches throughout the country. The single, "He Shall Reign," the title track, and "Never Leave Me Alone" are excellent examples of vertical praise performances relentless in their forward propulsion.
Kern who hails from Phoenix, Arizona, possesses a Christian power pop voice that is ideal for the rhythmic praise pieces.  At the same time, she can offer delicate, winsome tones on worship ballads, which comprise most of the album's second half. Songs such as "Heaven Come Down" and "I Will Exalt" are hypnotic and atmospheric; whereas traditional gospel pierces the heart with incisive wisdom, P&W ballads embrace the heart with gentle love. Kern boosts the passion quotient with improvisation on "In You," a lovely ballad that celebrates God as our reason for living.
For the album, Kern secured the production talent of CCM singer-songwriter BJ Putnam. He handles lead on "We Worship You," a song he co-wrote with Doug Engquist and one I have heard performed by Puchi Colon. Putnam and Doug and Laurie Engquist are responsible for penning most of the album's compositions.  Their handiwork is evident throughout.
The ballads alone are worth the listen.
Four of Five Stars
Pick: "In You."
Written by : Bob Marovich
Bob Marovich is a gospel music historian, author, and radio host. Founder of Journal of Gospel Music blog (formally The Black Gospel Blog) and producer of the Gospel Memories Radio Show.