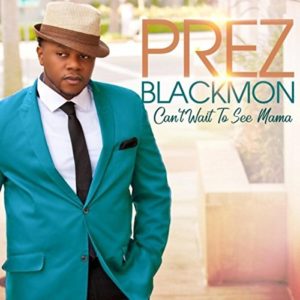 "Can't Wait to See Mama"
Prez Blackmon
Pearl's Son Music (originally released in 2017)
By Bob Marovich
Stellar Award-nominee Prez Blackmon may be the biggest fan of holidays.
His prior single releases include songs about Christmas, his birthday, and Mother's Day. The latter, a 2010 JDI Records selection called "Happy Mother's Day," finds Blackmon sharing vocals with songstress Renee Spearman.
Blackmon's new release, "Can't Wait to See Mama," is another Mother's Day ballad, this time an a cappella ode to his mother and all she did for him. To a familiar hymn melody, Blackmon improvises as a backing choir of voices supports him with richly textured modern harmony. It's a straightforward, dignified reading bereft of any schmaltz or superficiality.
But Blackmon's mother is not over the river and through the woods; she now rests in Heaven. "It's been ten years," he sings, "and I can't wait to see Mama." It's not that he's praying to die, he just misses his mom and longs for the day to see her again.
If this isn't a clear message for all of us to visit our mothers this Sunday, I don't know what is.