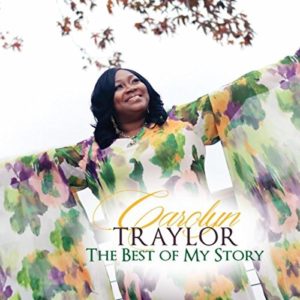 Carolyn Traylor
The Best of My Story
Traylor Made Music Group (release date: March 31, 2017)
By Bob Marovich
Working in the traditional-or-die mode of such artists as Dottie Peoples, Beverly Crawford, and Lemmie Battles, Carolyn Traylor of Greenville, Texas, flexes her vocal muscles on her latest album, the thoroughly enjoyable The Best of My Story.
Recorded live at Shreveport's Peaceful Rest Baptist Church, the album finds Traylor, called the "Texas Powerhouse" in Derrell Hobdy's introduction, varying from sweet to squall on eleven selections of mostly churchy fare.
I say mostly, because "Victory" and "He Did It All" have a more mainstream musical foundation, the kind that lends itself well to today's gospel radio playlists. The rest are old school-inspired hard-singing gospels, and what I call church recitatives, with warbly organ and a solid choir (Roy Benton and the Nacogdoches Interdenominational Youth Choir).
Of the album's highlights, "Do What the Lord Says Do" has a "country clap" beat, as Traylor sings that those who go right when God says go left will be lonely. "You Did Not Lose" offers a different viewpoint on loss and setback, suggesting that it's simply God telling you "it's time to make a move." I can testify to that.
Stepping out on faith resonates also on the title track, as well as on the current single, "Unchanging Hand," and "Step In," where to a bluesy backdrop, Traylor and the Reverend Buddy Buchanan duet on the virtues of an on-time God. "Unchanging Hand," a new spin on an old hymn, benefits from wonderfully deft piano work, probably courtesy of Steven Morris or album co-producer Tramaul Love.
Other than "Unchanging Hand," the material is newly composed, mostly from the pens of Paul Shepherd (the other album co-producer) and Traylor herself, but the two give their songs and arrangements plenty of traditional flair. All told, The Best of My Story is an album that deserves major label attention.
Four of Five Stars
Pick: "Do What the Lord Says Do"