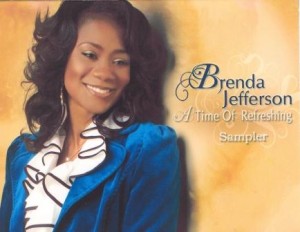 "Oh Clap Your Hands"
Brenda Jefferson
from A Time of Refreshing
Scripture Music Group 2007
www.myspace.com/brendajeffersononline
"Oh Clap Your Hands" is the radio single from Brenda Jefferson's recently released collection of "Scripture songs," A Time of Refreshing. Pastor Jefferson and her husband, Bishop M.B. Jefferson, lead the congregation at Deeper Life Christian Church in Tampa, Florida.
"Oh Clap Your Hands," featuring Lisa Page Brooks, is a mid-tempo foot-tapper that showcases the background singers (who chant a catchy motif) as much as the shouting interplay between Jefferson and Brooks. The song is sure to complement contemporary gospel radio playlists nicely.
For my money, however, a more powerful and effective track on A Time of Refreshing is Pastor Jefferson's duet with the legendary quartet captain of the Mighty Clouds of Joy, Joe Ligon, on "I Will Trust in the Lord." This cut is steeped in traditional gospel blues, and Ligon's presence gives it even more authenticity.
Written by : Bob Marovich
Bob Marovich is a gospel music historian, author, and radio host. Founder of Journal of Gospel Music blog (formally The Black Gospel Blog) and producer of the Gospel Memories Radio Show.