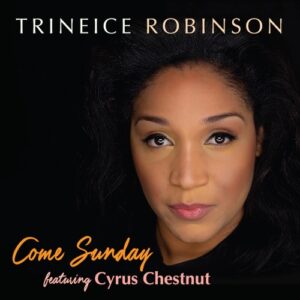 "Come Sunday"
Trineice Robinson feat. Cyrus Chestnut
From the 4RM Music Productions album All or Nothing
(release date: August 6, 2021)
www.drtrineice.com
By Robert M. Marovich
"Come Sunday," from Duke Ellington's 1942 Black, Brown and Beige suite, never fails to stop time for saint and sinner alike.
Mahalia Jackson's 1958 lyric version stands as the all-time finest rendition of what started out as an instrumental for saxophonist Johnny Hodges. Nevertheless, jazz vocalist Trineice Robinson does a marvelous job interpreting this ode to the restorative power of prayer. "Come Sunday" is itself a prayer, lifted from a mentally, physically, and emotionally exhausted people whose Sundays were, at one point, their only day to truly be themselves.
You hear in Robinson's voice a world weariness but also a hope for a better day. Cyrus Chestnut's piano accompaniment evokes the peace of a dawning sun.
Among her many other contributions, Dr. Trineice Robinson-Martin teaches jazz voice and directs the Jazz Vocal Collective Ensemble at Princeton University. She is on the National Faculty of the Gospel Music Workshop of America. The song is from her debut solo album, All or Nothing.
Written by : Bob Marovich
Bob Marovich is a gospel music historian, author, and radio host. Founder of Journal of Gospel Music blog (formally The Black Gospel Blog) and producer of the Gospel Memories Radio Show.