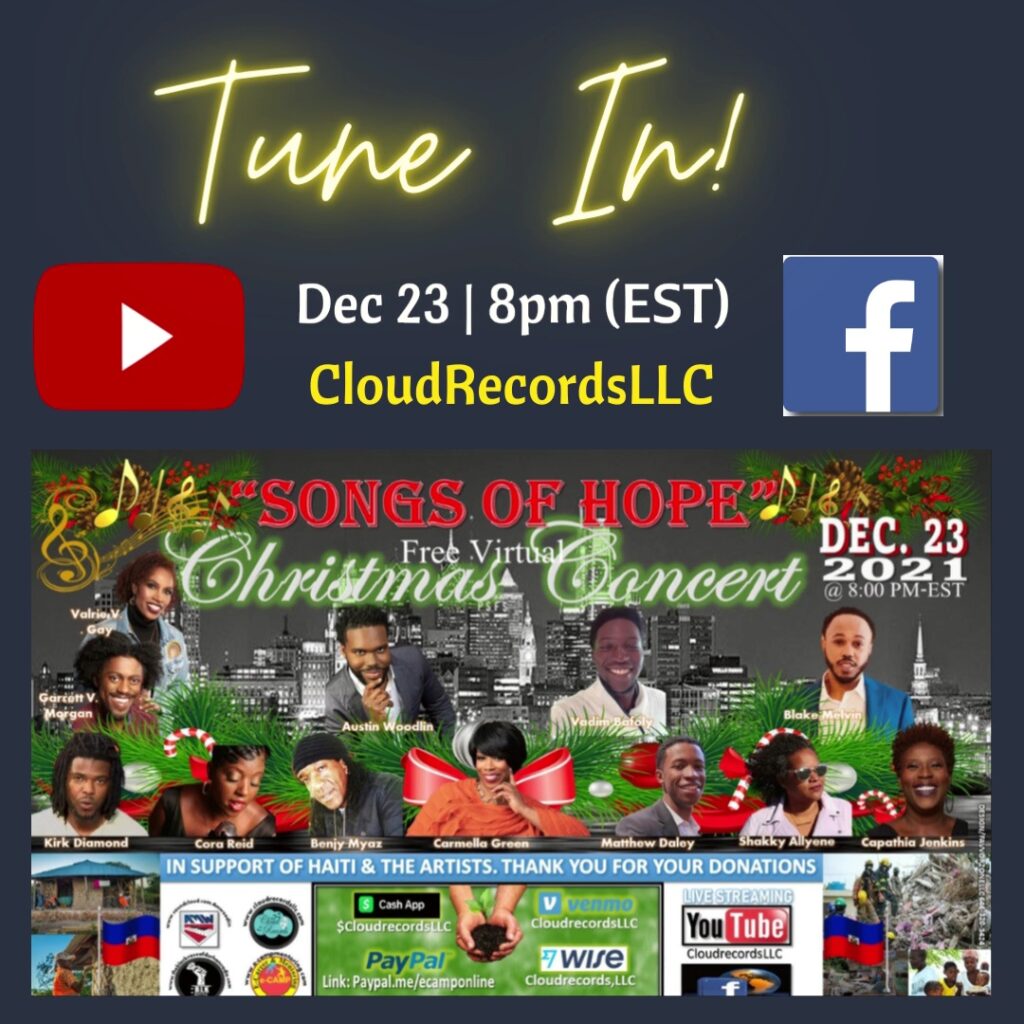 From a press release:
This holiday season in partnership with e-Camp Mentoring and the Black Rose of Durham Radio, both from Canada, Cloud Records of Philadelphia is sponsoring a free virtual Christmas concert, "Songs of Hope," on December 23, 2021, at 8:00 PM EST on Cloud Records' YouTube channel and Facebook page.
Featuring artists from around the world, the concert will support the people of Haiti who have experienced some of the worst human devastation. In particular, Cloud Records wants to gain at least one million viewers for this concert and raise at least $500,000 for this very important cause.
Cloud Records CEO Maurine McFarlane says "Songs of Hope" will give talented artists the exposure they deserve on the local and international stage. They include Capathia Jenkins, Carmella Green, Valerie V. Gay, Kirk Diamond, Austin Woodlin, Blake Melvin, and others.
The beneficiary of the proceeds is Community Organized Relief Efforts (CORE), an organization founded by actor Sean Penn that now aids in humanitarian efforts in many islands and the United States. CORE has a very successful track record in Haiti and a good connection to its people. Gifts will help CORE build homes for the people of Haiti, as well as provide medical care, restore lives, and much more.
You can learn more about Cloud Records, LLC at www.cloudrecordsllc.com, e-Camp Mentoring at https://www.ecamp.online/, www.theblackroseofdurhamradio.com, and CORE at www.coreresponse.org.
For more information about the "Songs of Hope" Christmas concert, visit https://youtu.be/RzfaP404mvs.
Written by : Bob Marovich
Bob Marovich is a gospel music historian, author, and radio host. Founder of Journal of Gospel Music blog (formally The Black Gospel Blog) and producer of the Gospel Memories Radio Show.