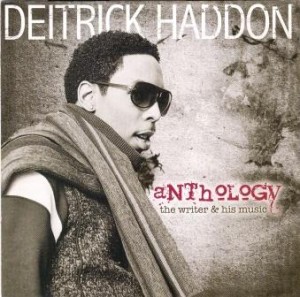 Deitrick Haddon
Anthology: The Writer and His Music
Tyscot Records (street date: August 23, 2011)
http://www.tyscot.com/
Deitrick Haddon is among a legion of fellow Detroit artists – starting with the Rance Allen Group in 1970 and including the Winans and Moss-Clark Families and wife Damita Haddon – who have ensured that gospel music remains in synch with the popular sounds of the day.
Showcasing his envelope-pushing sound, Anthology: The Writer and His Music is a hand-picked collection of Haddon's work for the Indianapolis-based Tyscot Records, a partnership that began in the mid-90s. It's a two-disc deluxe edition (CD and DVD) that includes the stadium-sized antiphonal praise anthem, "I Gotta Praise (Holy One)" and the southern soul-tinged "Chain Breaker (Jiffy Cornbread Mix)." The latter includes cameos by Haddon's parents, Prophetess Joyce and Bishop Clarence Haddon. "The Potter" is a duet with Damita.
Deitrick Haddon's urgent rhythms and R&B fusion produce praise and worship with attitude. For example, on "Anybody Here (Remix)," Haddon calls for the saints to get on the floor and dance – meaning a Holy Ghost party, not a club rave. "I Can't Praise You Enough" is just as explicit in demonstrating the importance and perhaps the imperative of praising with dance.
The artist's playful infusion of pop music can be heard on "The Walking Dead," which in its use of a ghoulish narrator, rapid-fire lyrics and a dance beat bears close kinship with Michael Jackson's "Thriller." "I Gotta Praise (Holy One)" features music from the singalong "na na na na na" hook from "Land of 1,000 Dances." "One Nation" pines for the old days, when the US was "one nation under God," but uses a modern beat to express its message.
To further accentuate "the writer" component of the CD, it would have been interesting had the CD or DVD included a handful of songs written by Haddon but interpreted by other artists.
Nevertheless, for a concentrated package of Haddon classics, Anthology: The Artist and His Music satiates. The DVD features music videos from the Blessed & Cursed film soundtrack.
Speaking of films, word has it that Haddon and Tyscot are at work on a new picture, A Beautiful Soul, scheduled for theatrical release next year.
Four of Five Stars
Picks: "I Gotta Praise (Holy One)," "Chain Breaker (Jiffy Cornbread Mix)."
Written by : Bob Marovich
Bob Marovich is a gospel music historian, author, and radio host. Founder of Journal of Gospel Music blog (formally The Black Gospel Blog) and producer of the Gospel Memories Radio Show.