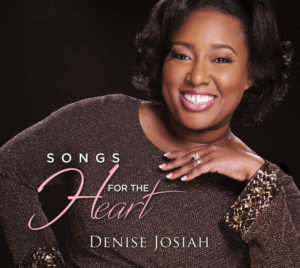 Denise Josiah
Songs For the Heart
JoDah Ministries, LLC (2016)
www.jodahministries.org
By Bob Marovich
Denise Josiah titled her debut album Songs For the Heart, but it could easily have been titled Songs From the Heart.
The ten lovingly intimate sacred selections on the CD were penned or arranged over a period of more than twenty years by the singer, her husband Dr. Donnell Josiah, or written together.
Born on the beautiful island of Saint Maarten but now residing in Maryland, Denise is a worship singer whose light soprano is thickened with resonant echoes of alto, no doubt the result of her classical training, which is particularly evident in her confident breath control. She's neither a shouter nor a squaller: even on the traditional-leaning single, "God Meant It for Good," Denise leans toward pretty tones. Many island-born gospel artists, I have found, tend toward a sweeter sound in their singing.
In terms of songwriting, the Josiah Family's finest work can be found in the album's slower, more contemplative pieces, especially those that contain elements of the hymn tradition, such as the lovely "Enough for Me." It wasn't enough for me; the song is so compelling, I wished it had continued well past its 3:16 length. "Look to Jesus" is another example of a song that could be rendered just as easily from a program platform as from a hymnbook.
Brisk selections, such as the opening "You Are Worthy" medley that incorporates samples of VaShawn Mitchell's "Name Above All Names" and the classic "Worthy Is the Lamb," are more conventional P&W pieces that lack the intimacy of "Enough for Me," though the addition of brass and strings throughout the album, and the presence of solid BGVs, give the project musical authenticity.
Songs For the Heart is an effective solo debut. One hopes that the follow-up contains more of the hymns that the Josiah Family are so adept at writing, perhaps a duet with another gospel artist, and even an old Zion song to showcase Denise's commanding voice.
Three of Five Stars
Picks: "Enough for Me," "God Meant It for Good."