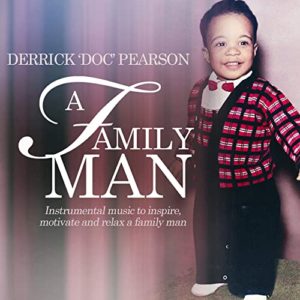 Derrick "Doc" Pearson
A Family Man
I AM Music Company (release date: May 7, 2021)
www.iammusiccompany.com
By Robert M. Marovich
Bassist, arranger, and songwriter Derrick "Doc" Pearson has graced the e-pages of JGM in the past with inspirational smooth jazz projects such as 2018's I Still Do: Songs for a Biblical Marriage, and initially with his 2015 release, No Greater Love.
Pearson's latest offering, A Family Man, follows in the footsteps of I Still Do in its thematic anchoring, its mix of bass-driven smooth jazz from a team of top-flight musicians representing the DMV area, and equally smooth vocals. This time, the theme is a celebration of married family men and the young men who, with the proper direction, will grow up to join them. The title track and its "family version" reprise, featuring vocal cameos by Pearson's daughter Shari and wife Lamar, foreground this theme.
Most of the tracks, like the breezy "Reflection," exist to meet the goal of the album's subtitle: "to inspire, motivate, and relax a family man." Accented by Pearson's pumping bass runs, these songs roll along at smooth jazz's characteristic mid-tempo trot. But there are exceptions, and they make for the album's standout moments. One, the appropriately-tranquil "Beside Still Waters," has a lovely melodic line that Brian Lanier explores sumptuously on soprano sax. There's "The Soldier Boy March," which transforms the Shirelles' 1962 hit into a funky and brassy second line instrumental.
Contributing vocalists for A Family Man are Al Johnson on the title track and the team of Ralph and Zekuumba Zachariyas Hawkins and EJ Thomas on the tender "I Surrender All Y'all," a variation on the beloved hymn.
Musicians take turns showcasing their solo talents on various tracks featuring horn arrangements by R&B musician Tom Tom Washington (Earth, Wind & Fire) and Paul Riser, orchestrator for Motown. It's jazz on a Father's Day.
Three of Five Stars
Picks: "I Surrender All Y'all," "Beside Still Waters"
Written by : Bob Marovich
Bob Marovich is a gospel music historian, author, and radio host. Founder of Journal of Gospel Music blog (formally The Black Gospel Blog) and producer of the Gospel Memories Radio Show.