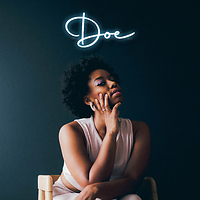 DOE
DOE (EP)
Life Room / RCA Inspiration
(release date: October 30, 2020)
www.rcainspiration.com
By Robert M. Marovich
Gospel music enthusiasts first heard DOE (Dominique Jones) as lead singer and composer of "He Wants It All," the debut single by twice GRAMMY-nominated forever JONES, her family's gospel music ensemble. Since then, the winsome singer has gone solo, earning a third GRAMMY nomination for her collaboration with Jonathan McReynolds on the single, "Cycles."
Not surprisingly, as their musical styles are similar, DOE's first solo EP is on McReynolds' newly-formed label, Life Room, in partnership with RCA Inspiration.
Like McReynolds, DOE is part of a generation of young sacred musicians who are writing and singing thoughtful, honest songs that expose the vulnerabilities and fragility of the heart in a post-modern society, as well as the small but heartening victories over life's disappointments.
Neither fully within nor fully outside the church writ large, this "life music," to use McReynolds' term, speaks to the challenges of the modern-day believer, regardless of faith. It is sacred in the same way life is sacred. In many respects, what DOE is doing reflects the singer-songwriter movement that blossomed in the early part of the 1970s through the work of Joni Mitchell, John Denver, James Taylor, and Carly Simon, among others.
DOE's breezy and buoyant debut single, "Brighter," is a love song to the Most High from an all-in devotee. The listener will hear sassy shades of India.Arie in this song as well as in "Good Now" and "I Try," the latter an expression of exasperation by a worship artist battered by the waves of a fickle public. "People only want the narrative that sells well," DOE sings. The lyrics remind me of Kierra Sheard's transparent "Don't Judge Me" and (showing my age here), the band Chicago's 1973 "Critic's Choice."
Featuring McReynolds as second voice, "Hey You" is a conversation between two lovers/friends who try to determine why their breakup destroyed their friendship. It's the kind of repartee that Shirley and Lee made a career out of in the 1950s and Paul and Paula in the 1960s. Unlike their predecessors, whose on again/off again relationship contained many lighthearted moments, Doe and McReynolds' ruminations are more solemn and, as such, more relatable. The DOE-McReynolds partnership should consider dedicating an entire album of duets on life music.
If "Brighter" is the EP's single, "Take Me Back" is its most emotional and effective track. It also offers DOE's most passionate singing. The piece exposes how immeasurable responsibilities of church leadership can get in the way of the spirituality that drew the individual to the church in the first place (as a former music minister, I can relate). At the same time, the sentiment can be applied to anyone feeling adrift from the initial spark of commitment.
On her EP, DOE wears her heart on her sleeve and lifts that sleeve up to expose it unapologetically to the world. I suspect that in return, the world will lift its own sleeve in solidarity and encouragement.
Five of Five Stars
Pick: "Take Me Back"
Written by : Bob Marovich
Bob Marovich is a gospel music historian, author, and radio host. Founder of Journal of Gospel Music blog (formally The Black Gospel Blog) and producer of the Gospel Memories Radio Show.