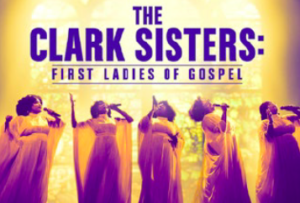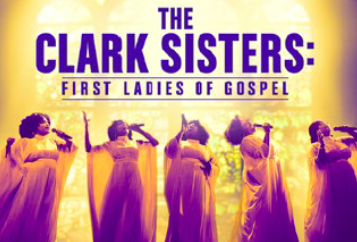 By Bob Marovich
Like Beatles and Bob Dylan purists, fans of gospel's celebrated Clark Sisters know every harmony, every vocal ornamentation, and every nuance of every singer on every song by heart—almost better than the artists themselves.
No pressure on Donald Lawrence, musical director of The Clark Sisters: First Ladies of Gospel. The biopic premieres Saturday, April 11, on Lifetime (8 p.m./7 p.m. Central).
The film is directed by Detroit native Christine Swanson (a fellow Domer from the University of Notre Dame) and stars Aunjanue Ellis as the mercurial Dr. Mattie Moss Clark; Kierra Sheard plays her own mother, Karen Clark Sheard. Executive producers are Grammy Award winners Queen Latifah, Mary J. Blige, and Missy Elliott.
If anyone is up to the task of serving as music director for the film, it's Donald Lawrence. An acknowledged fan of the Clark Sisters, he has a history of working with them, individually and collectively, going back more than a quarter-century. His initial collaboration with the Clark Sisters was writing songs for their 1994 Miracle album. He wrote two songs for Twinkie's 1996 solo disc, The Masterpiece, and wrote for, and did production work on, Karen Clark Sheard's 1997 solo outing, Finally Karen.
Perhaps Lawrence's finest moment with the Clark Sisters was his production of their 2007 multiple Grammy Award-winning Live – One Last Time, which featured the award-winning single, "Blessed and Highly Favored."
Lawrence told the Journal of Gospel Music that he first heard about the proposed biopic when the Clark Sisters brought him in a couple of years ago to discuss producing a brand new album. He recommended that they wait until after the film release to do the album. And that was where things stood until October 2018, when Lawrence received a telephone call from producer Dr. Holly Carter.
"She said they were doing a Clark Sisters movie and they wanted me to do the music. I wanted to do it, but it was a really busy time for me. The thing about a movie is you have to finish the music before they go into filming, otherwise it slows the production down. So because of how fast the project was moving, they were nervous I wouldn't have time to get the work done."
Nevertheless, they continued to discuss the project. When communications went silent for a spell, Lawrence decided the time was ripe to go on vacation. He barely had time to relax when he got the call to begin work—and immediately.
"I cut my vacation short and came back home," Lawrence said. "They needed about fourteen songs done in ten days—the arranging, tracking, editing, all of that. And needed me to cut the singers in about four days. So I basically had fourteen days to get everything ready for filming. I was nervous, but after I got to day two, I felt okay. I couldn't believe how fast I worked. I turned everything in two and a half days early."
Lawrence pulled on his many years of musical theater experience, as well as some research, to recreate the sound of the 1970s through the 1990s, the era when the Clark Sisters were at their apex. He also wanted the organ work to sound exactly as if Twinkie were on the keys. "I'm such a big Clark Sisters fan, especially a Twinkie fan," he said. "I knew that a big factor was not just having an organ, but an organ that sounded like it did in 1980."
For that, Lawrence called on Andre Chris Morris, a talented organist and his former musical director. "He's a bigger fan of Twinkie than I am," Lawrence said. "He would always watch Twinkie play, so it was a big moment for him, too. He understood what I wanted, and he knew I would tell him everything that was wrong if he didn't do it right!"
Although the film was shot in Toronto, Lawrence and Morris tracked the organ audio in Memphis. "We used like three Leslie [speakers] to get that big room sound, the way Twinkie's organ used to dominate."
The actors portraying the Clark Sisters—Christina Bell as Twinkie, Kierra Sheard as Karen, Sheléa Frazier as Dorinda, Raven Goodwin as Denise, and Angela Birchett as Jacky—are singers in their own right, but Lawrence wanted them to recreate the authentic Clark Sisters sound, harmonies and all.
"I knew every nuance that [the Clark Sisters] did," Lawrence said, "what textures needed to be where to make it sound right. Kierra definitely channeled her mom. Twinkie's contralto needed to be dark and heavy. Since Angela, who is really a soprano, can mimic voices, she was able to mimic Jacky's air texture. That's a part of the recipe of the Clark Sisters' sound, and if you don't have it, it misses something. Angela added that layering, like whipped cream to a pie. It takes away some of the bite of the other voices."
Lawrence added that when the actors first heard a playback of themselves singing together as the Clark Sisters, they couldn't believe it was them. Not only that, but when the Clark Sisters heard the mix, "they thought Twinkie had dubbed her voice in," he said. "I said, 'No, that's Christina!'"
The Clark Sisters are "extremely proud of the film," Lawrence said. "It gives you the dynamics of their family and their own view on their lives, and Denise's story, in particular. A lot of people don't know Denise's story because she hasn't been around for a while."
Lawrence just completed the film's forthcoming soundtrack.
"There are a lot of great gospel family stories out there," he said, "and this is, to my knowledge, the first gospel family story that's been filmed. I hope it opens the door for a lot of other projects like it."
In other news:
Donald Lawrence planned to premiere the musical stage version of his award-winning album, Goshen, in Chicago next month, but the Coronavirus pandemic put a stop to all musical theater in Chicago from March through May. He said he hopes to premiere the stage show sometime in 2021.
Meanwhile, he just released a new single from the album Goshen, "Jehovah Sabaoth (God of Angel Armies)," which is eerily prescient. "It almost parallels the time we are in right now," he said. "It follows a time of plagues and how God kept angels around us, so it was fitting to put it out now."
Jehovah Sabaoth in Hebrew, he explained, means "Lord God of Hosts, or God who governs an army. So we just want to encourage people that God has an army of angels surrounding you at this time, to protect you. By faith, we believe it."
For more information on The Clark Sisters: First Ladies of Gospel, visit www.mylifetime.com.
Written by : Bob Marovich
Bob Marovich is a gospel music historian, author, and radio host. Founder of Journal of Gospel Music blog (formally The Black Gospel Blog) and producer of the Gospel Memories Radio Show.