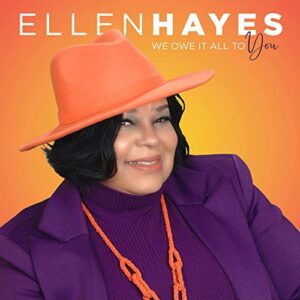 Ellen Hayes
We Owe It All to You
Songs & Melodies Records, LLC (release date: February 6, 2022)
www.meetellenhayes.com
By Robert M. Marovich
Any new album featuring A. Jeffrey LaValley is going to grab my attention.
LaValley, the veteran gospel musician whose "Revelations 19:1" was famously sampled on Kanye West's Jesus is King, wrote a couple of instrumentals and handles keys for some tracks on Ellen Hayes's solo album, We Owe It All to You.
Thanks to solid songwriting from Hayes, Michael Mindingall, and Sean Hardin, the album contains a greater number of individually distinctive and quality gospel songs than one typically finds on albums today. Some are aisle walkers, such as the openers, "Walk in the Spirit" and "Yes Lord." With its 12/8 rocking chair tempo, the encouraging "God Will Supply" also has a traditional feel and features Hayes's most emotional singing. Hayes and her team are at their most compelling on these older-school songs, but "Oh King," a P&W song with contemporary gospel cred, also stands out.
The Detroiter Hayes sings with flatfooted passion, most often clinging to the higher reaches of her vocal range even though she possesses a fine low range that she unveils from time to time. She shares the lead microphone at turns with Cynthia Gross and Latoya Bellafant, who supply excellent vocal work on the prayerful "Just Like You Lord." As forty percent of the its seven-plus-minute running time doesn't add much more to the original motif, it could have been edited out without any loss of meaning.
The background vocalists shine most brightly on the closing benediction, "Peace Be Unto You." With LaValley accompanying on piano, this Hayes composition is the album track with the greatest potential to enter the repertories of church choirs. It reinforces the notion that less is more and the last will be first.
Four of Five Stars
Picks: "Walk in the Spirit," "Yes Lord," "God Will Supply," "Peace Be Unto You"
Written by : Bob Marovich
Bob Marovich is a gospel music historian, author, and radio host. Founder of Journal of Gospel Music blog (formally The Black Gospel Blog) and producer of the Gospel Memories Radio Show.