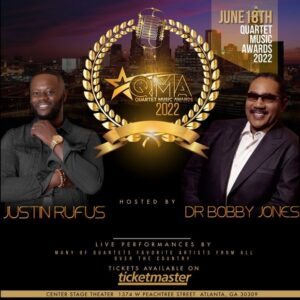 Atlanta, GA — The stage is being set for the biggest night in Gospel Quartet music. The inaugural Quartet Music Awards (The QMAs) will take place on Saturday, June 18, at Center Stage Theater, 1374 West Peachtree Street in Atlanta, GA.
The ceremony will be a history-making night of electrifying performances and memorable moments. The QMAs will showcase the rich legacy the genre of Quartet has contributed to the landscape of Gospel, Soul, Blues, Rock, and R&B music. The award show will be hosted by 'the hottest host on the east coast' Justin Rufus and Ambassador Dr. Bobby Jones.
The Quartet Music Awards is the vision of D. Chubbs Morton, songwriter, musician, and front man for the popular group D. Morton and Gifted.
"It's time. Quartet has fought tirelessly to be recognized and respected for our music and our culture," explains Morton, QMA Chief Executive Officer. "Major awards shows have refused to include our artists on their main stages. It's time we become the change we want to see."
He continues, "The greatest part about our QMAs is that it's not just for the artist on stage. We created this for listeners, ticket buyers, supporters, and every person who loves this thing we call Quartet!"
The QMAs will not only recognize today's most talented Quartet artists, groups, and rising stars, but will honor the icons and legends who have helped lay the footprint and kept the genre thriving. The first class of QMA Honors (living and posthumous) will be presented to the late Lee Williams (Lee Williams and The Spiritual QC's), Tiffanie Tutu Agee (The Truthettes), George Dean (The Gospel 4), Evelyn Turrentine-Agee, Harvey Watkins, Jr. (Canton Spirituals), Cleve Graham (Pilgrim Jubilees), Spencer Taylor (Highway QC's) and the late Percy Griffin (Swanee Quintet).
"It's extremely important to me for us to recognize our Quartet music legends because they are our foundation and have paved the way for us," says Connie Birth, QMA Chief Operating Officer. "They established the original blueprint of Quartet. It's not only about the music but the culture as well. Without them, we would not be here. We are Quartet."
The sixteen QMA categories and official 2022 nominees have been announced. Voting is open to the public! Now through April 1, 2022, fans can vote for their favorite singer, group, and quartet music professional at QuartetMusicAwards.com/vote-now.
Tickets for the QMAs are $50 and available via Ticketmaster. The host hotel for the event is Residence Inn by Marriott, located at 134 Peachtree Street NW, Atlanta, GA, 30303.
For more information about the QMAs, visit QuartetMusicAwards.com.
Written by : Bob Marovich
Bob Marovich is a gospel music historian, author, and radio host. Founder of Journal of Gospel Music blog (formally The Black Gospel Blog) and producer of the Gospel Memories Radio Show.