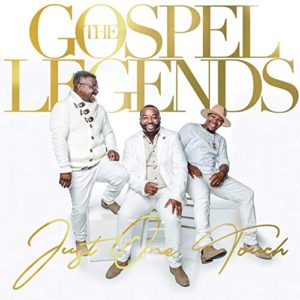 "Get Right Church"
The Gospel Legends
From the OTH Records CD Just One Touch
(release date: December 11, 2020)
www.thegospellegends.com
By Robert M. Marovich
One day about fifteen years ago, I was at the Gospel Music Workshop of America when someone handed me an invitation to meet a group called the Gospel Legends at their booth in the exhibitors' hall.
Intrigued, I accepted the invitation, expecting to shake hands with a group of seniors from various veteran quartets. I'm sure the Gospel Legends of South Carolina smiled at the surprise on my face when I laid eyes on a group of young men.
But age be darned, the fellows can sing, and they demonstrate it on their version of the Reverend James Cleveland classic, "Get Right Church." It's a drive-tempo handclapper that beseeches the congregation to prepare for the judgement day. A bouncy vamp filled with repetitions of "He's coming back" is tagged on for good measure and extra encouragement.
Entering their thirty-first year of music ministry, the Gospel Legends are anchored by the Pringle Brothers, Allen and Scott. The single is from their eighth studio album, Just One Touch.
Written by : Bob Marovich
Bob Marovich is a gospel music historian, author, and radio host. Founder of Journal of Gospel Music blog (formally The Black Gospel Blog) and producer of the Gospel Memories Radio Show.