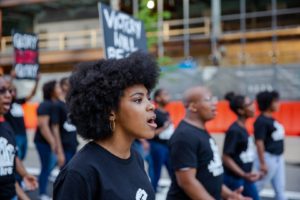 "Glory"
Detroit Youth Choir feat. IndigoYaj
(release date: July 13, 2020)
www.detroityouthchoir.org
By Bob Marovich
From the 2014 film Selma, "Glory" is an ideal piece to sing for choruses everywhere, and especially youth ensembles like the fifty-plus member Detroit Youth Choir, which retains the song's inspirational soul while foregrounding its sobering message of inequality.
Rap interludes from former DYC member IndigoYaj update the original by expressing the anxieties of COVID-19 and righteous anger over the persistence of racism. The choir received a shout out from none other than John Legend, who co-wrote "Glory" with Common and Rhymefest.
The DYC puts a fine point to their message by ending the song with a simple statement: "We need to stand together so we can be one." As Everett Drake might sing, Amen goes right there.
The year 2019 was memorable for the DYC. First, it took second place on NBC's telecast America's Got Talent. Then the Ford Motor Company Fund gave each member a $1,000 scholarship and a 15-passenger van to the organization. Anthony White is artistic director.
Written by : Bob Marovich
Bob Marovich is a gospel music historian, author, and radio host. Founder of Journal of Gospel Music blog (formally The Black Gospel Blog) and producer of the Gospel Memories Radio Show.