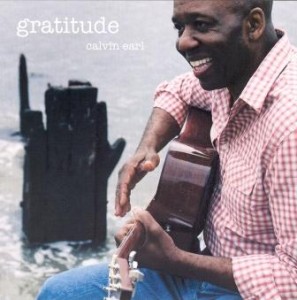 Gratitude
Calvin Earl
Back to Basics Records 2004
www.calvinearl.com
Following in the footsteps of artists such as Ella Jenkins and Odetta, who performed African American spirituals within a folk music context, Calvin Earl has produced Gratitude. It is Earl's personal statement of "gratitude" to his ancestors for their gift of the spiritual, which he updates for a 21st century listening audience.
According to Earl's website, his sophomore release was also conceived "to help teachers and students experience the music created by the African people enslaved in America." But this isn't your typical Silver-Burdette spiritual collection for the classroom. These arrangements are more in step with modern tastes, similar to what the group Ollabelle has done with sacred music in recent years.
Unlike classical arrangements of spirituals for the concert hall, the collection of songs on Gratitude have a folk-rock sensibility, fronted by Earl's relaxed singing and guitar style and backed by a cooing chorus. These ingredients make the "sorrow songs" more hopeful-sounding and accessible to modern listeners.
"Come By Here," a fun and bouncy reworking of the media-maligned "Kum Ba Yah," opens the set and is the most memorable and hummable of the collection. Some songs, such as "Deep River," which consciously or unconsciously interpolates the melody of "Old Man River," are barely recognizable from standard arrangements of the spiritual. Earl experiments by infusing "Wade in the Water" with African-sounding drums and shouts, and giving the uptempo "Down by the Riverside" and "Do Lord Remember Me" a Nashville-style country beat. A rock-and-roll rhythm carries "Rock a My Soul."
Born in North Carolina and a professional singer since childhood, Earl is an avid proponent of the preservation of spirituals, so much so that in 2007 he lobbied Congress successfully to recognize the contributions of African American slaves and specifically the spiritual as a National Treasure.
Three of Four Stars
Written by : Bob Marovich
Bob Marovich is a gospel music historian, author, and radio host. Founder of Journal of Gospel Music blog (formally The Black Gospel Blog) and producer of the Gospel Memories Radio Show.