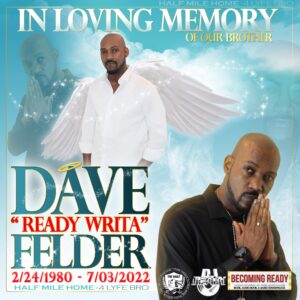 (ATLANTA, GA) – July 8th, 2022 – Popular gospel group Half Mile Home lost member David "Ready Writa" Felder. Felder unexpectedly passed away earlier this week at the age of 42.
Felder was a loyal member of the Billboard chart-topping group. He was a dedicated father of 4 and known throughout the industry for his talents as a writer, producer, and singer.
With the 2022 return of Half Mile Home, their latest single "Closet" has been trending in the Top 40s several weeks on the Billboard chart. The song is getting rave reviews nationally from radio and fans.
The message of "Closet" will resonate personally with the remaining group members Todd Burton and Darryl Brownlee. The song references the prayer closet, where people of faith go into a secret place to pray and cast all their cares over situations that are bigger than they. Once they emerge from the closet they watch their faith work on the issue that was prayed about. The group members will need their closet in the coming days to stay strong and continue their work without David.
NOTE: The Journal of Gospel Music extends its sympathies to the family, friends, and many fans of Dave Felder. It will post homegoing details when made available.
Written by : Bob Marovich
Bob Marovich is a gospel music historian, author, and radio host. Founder of Journal of Gospel Music blog (formally The Black Gospel Blog) and producer of the Gospel Memories Radio Show.