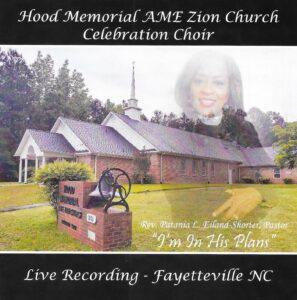 Hood Memorial AME Zion Church Celebration Choir
I'm In His Plans
Bison Disc (release date: February 23, 2021)
https://hoodmemorialamez.com/
By Robert M. Marovich
Time was, you would have looked long and hard in the AME Zion church writ large and found neither gospel music nor gospel singers anywhere within the four walls. Hymns, yes. Anthems, yes. Spirituals, check. Gospel songs, not so much.
Then you hear "It's About Time to Praise Him" by the joyously full-throated Celebration Choir from the Hood Memorial AME Zion Church in Fayetteville, North Carolina, and you realize those days are passed and gone.
Complete with whirring organ and thumping rhythm section courtesy of the Prodigal Sons band, the Celebration Choir, nominated for seven Rhythm of Gospel Awards in 2022, demonstrates its versatility on I'm In His Plans with quality singing and stylish section work. Of course, it doesn't hurt to have the estimable talents of Franklin "Bubby" Fann (BF Sounds) as album producer.
Although the album, presented by Hood Memorial's pastor-singer-songwriter, the Reverend Patania L. Eiland-Shorter, features mostly new songs, classics like "Blessed Assurance" receive an enjoyable contemporary interpretation. Alto and choir director Lora Johnson delivers the brassy single, "Use Me," with the self-confidence and strut of a 1920s blues diva (talk about blessed assurance). Donna Newkirk's splendid lead on the even-tempered "Spirit Renew Me" vitalizes the live recording audience. "I'm Gonna Praise His Holy Name" is a traditional sounding gospel set to a 1960s dance beat.
Penned by the pastor, "Hallelujah to Your Name" has an African vibe, right down to its simple melody, polyrhythmic swing, melodic and vocal repetition, and intense treble harmonies. Led by Minister Gwendolyn Ellis and Illie Baker Jr., the relaxed gospel ballad "Be Still" is not based on the story from Mark that birthed "Peace Be Still" but on Isaiah 40:31 and Psalm 46:10 ("Be still and know that I am God").
Some lead vocalists from the choir demonstrate more confidence in front of the recording mike than others, with Lora Johnson ("Use Me") and Donna Newkirk ("Spirit Renew Me") serving as the album's standout singers. Keyboardist Bob James handles most of the music arrangements.
The closing track, "No One in the Kingdom Got Swagga Like Us," is a charming chant that I can almost hear the choir rapping as they march up the aisle to the altar.
Including a rarity these days—a CD booklet with song information and names and images of the choristers—I'm In His Plans proves that some independent projects can compete head-to-head with those on major labels.
Five of Five Stars
Picks: "Use Me," "I'm Gonna Praise His Holy Name"
Written by : Bob Marovich
Bob Marovich is a gospel music historian, author, and radio host. Founder of Journal of Gospel Music blog (formally The Black Gospel Blog) and producer of the Gospel Memories Radio Show.