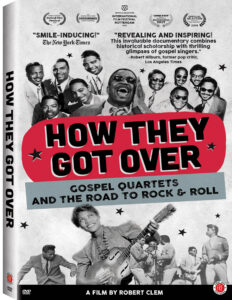 First Run Features presents
…Fresh from its Theatrical Release…
Robert Clem's New Music Documentary
HOW THEY GOT OVER
How They Got Over celebrates the spirit of gospel performers and how they helped usher in a musical revolution that changed the world forever!
Beginning in the 1920s, Black singers across the country took to the highways as the new technology of radio and records made it possible to reach a wider audience. Intense competition brought new ways to entertain, first with guitars, later with full bands, then with a performance style that would inspire Mick Jagger and a host of other rock and rollers.
How They Got Over – Official Trailer from First Run Features on Vimeo.
Their music was infectious, wrecking many a house on the chitlin' circuit, then graduating to the Apollo and other major auditoriums across the country. The success of gospel quartets inspired record labels to form doo-wop groups that enticed gospel singers like Sam Cooke, Lou Rawls and Wilson Pickett to cross over to greater fame.
How They Got Over features classic performance footage of the Soul Stirrers, Dixie Hummingbirds, Sister Rosetta Tharpe, Blind Boys of Mississippi, Sensational Nightingales, the Davis Sisters and many more. Some of the greatest names in quartet music are interviewed in the film, giving vivid accounts of how they "got over" in their performances: shouting, bending over backwards, dancing, jumping off the stage: what came to be known as "gospel drama" – and a huge influence on future rock 'n' rollers.
HOW THEY GOT OVER
A film by Robert Clem | 87 minutes | color | English
Streaming & DVD Launch Date: May 3, 2022
Streaming on Apple TV, iTunes & Vimeo On Demand
DVD PRE-BOOK: April 12, 2022 SRP: $24.95
DVD UPC: 7-20229-91814-5 DVD Catalog #: FRF 918145D
DVD Bonus Features:
1. Sister Rosetta Tharpe hosts TV Gospel Time and performs Down by the Riverside
2. The Barrett Sisters of Chicago sing Jesus Loves Me on TV Gospel Time
3. The Blind Boys of Mississippi host TV Gospel Time with a hard gospel rendition of Leaning on the Everlasting Arms
Written by : Bob Marovich
Bob Marovich is a gospel music historian, author, and radio host. Founder of Journal of Gospel Music blog (formally The Black Gospel Blog) and producer of the Gospel Memories Radio Show.