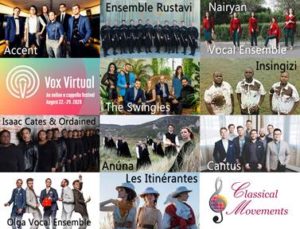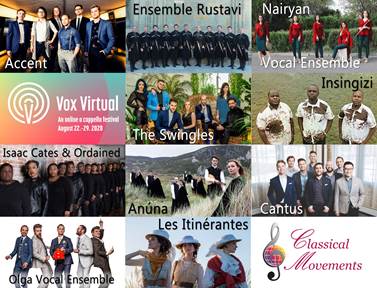 From Classical Movements:
Vox Virtual is a first-of-its-kind online a cappella festival, August 22-29. It will bring together musicians representing cultures and traditions from around the world for a week-long program of free streaming concerts.
The very unique part of the festival is each concert will be livestreamed free across all participating ensembles' Facebook pages through cross-posting. In other words, when an artist or presenter posts a live video, it mainly reaches their audience. However, by having multiple pages going live with the same performance, the audience size increases substantially. It is a new model rather than simply sharing someone else's livestream to an artist's own page.
Vox Virtual was conceived by Olga Vocal Ensemble and is co-produced by Classical Movements. Vox Virtual features hour-long shared concerts and a grand finale in which all ensembles come together.
The roster showcases a starry and fascinating assembly of celebrated ensembles. These groups include Kansas-based gospel choir Isaac Cates & Ordained (USA) as well as Insingizi (Zimbabwe), Cantus (USA), Accent (International), Anúna (Ireland), The Swingles (United Kingdom), Olga Vocal Ensemble (Iceland and Netherlands), Nairyan Vocal Ensemble (Armenia), Les Itinérantes (France) and Ensemble Rustavi (Georgia).
CONCERT SCHEDULE:
Saturday, August 22 at 2:00PM
Nairyan Vocal Ensemble / Cantus
Monday, August 24 at 2:00PM
Les Itinérantes / Accent
Tuesday, August 25 at 2:00PM
Isaac Cates & Ordained / Ensemble Rustavi
Thursday, August 27 at 2:00PM
Insingizi / Anúna
Friday, August 28 at 2:00PM
Olga Vocal Ensemble / The Swingles
For more information, visit voxvirtual.is
About Isaac Cates & Ordained:
Isaac Cates began singing and playing the piano at age four and started composing as a teenager. While a student at the Conservatory of Music, University of Missouri-Kansas City, he arranged spirituals, composed original chorales, and set sacred text. Currently, Cates is in demand as a choral clinician and music educator throughout the U.S. and Europe.
In addition to his leadership at music seminars, Cates is also a prolific producer, music educator, and recording artist. He is a gifted pianist and vocal arranger, sought after for his vocal coaching expertise. He has a unique ability to blend genres, using different musical techniques such as bel canto style with speech level singing. His original composition, "Strong Tower," has been translated in more than 17 different languages.
Firmly rooted in both gospel and classical training, Cates combines soulful harmonies, polyphonic rhythms, and dazzling piano accompaniments to create his trademark sound. In 2004, he collaborated with a colleague to form Ordained, a small musical ensemble of skilled vocalists. Together, Isaac Cates & Ordained have appeared in concerts and have been featured alongside some of the world's greatest artists, from gospel artists Bebe and Marvin Winans to country sensations Trace Adkins and Lyle Lovett.
Ordained has toured all over the U.S. and Switzerland. Comprised of soloists, worship leaders, music educators, and instrumentalists, Ordained is praised for their dynamic sound. Ordained released their first album in 2006,  Take My Life, the Christmas EP Carol Of The Bells, and numerous singles. Ordained's music videos of "Hold On" and "Carol Of The Bells" have more than one million views on social media. Ordained is preparing to release a new recording at the end of the year.
Written by : Bob Marovich
Bob Marovich is a gospel music historian, author, and radio host. Founder of Journal of Gospel Music blog (formally The Black Gospel Blog) and producer of the Gospel Memories Radio Show.