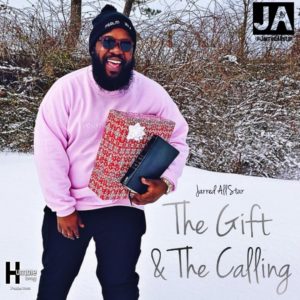 Jarred AllStar
The Gift and the Calling
(Release date: December 25, 2020)
www.jarredallstar.com
By Robert M. Marovich
Despite the cover photo, which depicts Christian hip hop artist Jarred AllStar Haynes carrying a wrapped box with a bow; and despite the fact that the project was released on Christmas Day; and despite the Christmas references on "Wise Men," The Gift and the Calling is not a Christmas album.
Jarred AllStar's new project is sacred freestyle. For example, "Hit You With a Smile" is breathless rapid-fire rapping against a cacophonous backdrop of eerie glissando. Here and elsewhere on the project, pop culture similes and word associations predominate, from Sarah Palin and Lieutenant Dan (Forrest Gump) to Taylor Swift and Jada Pinkett Smith.
On "All Love," Jarred "don't forget the All Star" interrupts his rhymes with what sounds like answers to an interview. When he declares that he's "out of touch" and "set apart," he means sanctification. On "The Calling Freestyle," he raps on being sanctified and set apart from the seedier side of life. Nevertheless, he's not saved for saved's sake—he wants to help others follow suit.
Another track that works with the AllStar trope, "Wise Men," is a reference to the Christmas Star. Follow the star (sanctification), Jarred rhymes, and it will lead you to the King of Kings. Featured soloist M. Davina Boyd recites the refrain in tune.
The album benefits from solid production and well-selected samples from hip hop and old soul, with references to the pandemic and political unrest dropped in here and there. Though this album is not as engaging lyrically as Jarred's 2018 Water and Wine, there's no doubt he has the rhyming chops.
Three of Five Stars
Pick: "All Love"
Written by : Bob Marovich
Bob Marovich is a gospel music historian, author, and radio host. Founder of Journal of Gospel Music blog (formally The Black Gospel Blog) and producer of the Gospel Memories Radio Show.