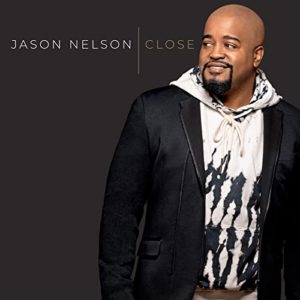 Jason Nelson
Close
Jaelyn Song Music /Tyscot / FairTrade (release date: August 6, 2021)
By Robert M. Marovich
The mark of an excellent gospel album is not just the superiority of the singing or the talent of the musicians but the solidness of the songs. Especially the songs. Jason Nelson's Close contains enough new songs for gospel artists to draw upon for the better part of a year.
It's been three years since The Answer (RCA Inspiration), but it is clear that Jason Nelson, twin brother of Jonathan Nelson, hasn't tarried. His sixth album, Close, was written during the pandemic and finds him exploring the myriad capabilities of the studio (The Answer was recorded live). He is reunited in the effort with producing and songwriting partner Dana T. Sorey.
Close contains what is basically a series of honest and informal prayer conversations with the Most High. Among the album's high points is the crisply articulated and arranged single, "Residue." Sounding inspired by a cleaning commercial, "Residue" likens a relationship with God to rigorous housework that makes all things new by washing away the old.
Singing sensation Chrisette Michele assists on the radio-friendly "Absent Minded," a confessional on how we can get caught up in daily activities and forget about God. Jason and Chrisette make solid duet partners, their blend particularly notable on an acoustic version of the song that closes the album. John Patitucci's introspective bass solo improvises on the motive during a separate selection. Given Nelson's bass guitar proclivities, it's no surprise that the project takes full advantage of heavy bass and a robust R&B/smooth jazz style rhythm section.
"Breathe," a call for revival, is a P&W song with an R&B soul. Similarly, "You Are," featuring Cross Worship Music leader Osby Berry and a team of mellifluent background vocalists, contains equal measures of CCM and gospel. So do "Holy" and the dramatic "What a Name," a hand-waver that reflects on Jesus's miraculous works. Despite its winking reference to the beloved hymn, "Every Hour (I Need Thee)" is a new song that foregrounds today's troubles ("the world is on fire") as the need for a call heavenward.
"All I Need" is the churchiest selection on the album. Its prayerful plea ultimately morphs into a vamp with a rocking chair rhythm and blue notes. It surpasses "Residue" in quality.
A combination of quality songs and singing (no distracting interstitials, no fillers), expert production, just the right amount of music, and a team of professional musicians make this a five-star package. Spending years writing gospel songs for others has definitely paid off. This is Jason Nelson's finest production yet.
Five of Five Stars
Picks: "Breathe," "Residue," "All I Need"
Written by : Bob Marovich
Bob Marovich is a gospel music historian, author, and radio host. Founder of Journal of Gospel Music blog (formally The Black Gospel Blog) and producer of the Gospel Memories Radio Show.