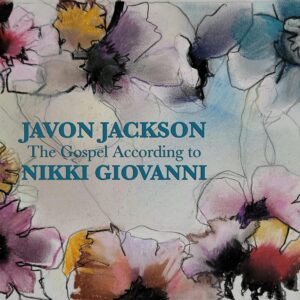 Javon Jackson
The Gospel According to Nikki Giovanni
Solid Jackson (release date: February 18, 2022)
https://www.javonjackson.com
https://nikki-giovanni.com
By Robert M. Marovich
The Gospel According to Nikki Giovanni is a Black History Month treat from a jazz combo led by Javon Jackson, saxophonist and former member of Art Blakey's Jazz Messengers, and the iconic poet and national treasure who lent her name to the album's title.
The album came about after Jackson, a faculty member at the Hartt School at the University of Hartford and director of its Jackie McLean Institute of Jazz, invited Giovanni to speak to his students. In the auditorium, Giovanni heard Steal Away (Verve, 1994), Hank Jones and Charlie Haden's magnificent collection of jazz interpretations of spirituals, playing over the P.A. system. It was in the spirit of Steal Away that Giovanni curated, and Jackson's combo performed, the folk spirituals that comprise this nearly hour-long program. Indeed, the restful and righteous arrangements are reminiscent of Steal Away.
When Christina Green recites Giovanni's poem "A Very Simple Wish" over "Wade in the Water," it evokes Truth is on its Way, Giovanni's 1971 album with the New York Community Choir. On that album, Giovanni's poetry gave pointed notice to a racist society in such works as "Great Pax Whitey" / Peace Be Still." More than fifty years later, on Jackson's album, Giovanni sings the beautiful and moving "Night Song" in tribute to her friend, the late Nina Simone, who covered the song (from the musical Golden Boy) in 1964. Jackson's sax work on this selection is mournful as midnight but somehow still manages to engender a sense of hope. It is the album's highpoint.
Jackson's tones are warm and three-dimensional. His combo of pianist Jeremy Manasia, bassist David Williams, and drummer McClenty Hunter offers ample support while each musician takes his turn in the solo circle. Williams shines on the intro to "I Opened My Mouth to the Lord," and Hunter has his spotlight moments near the conclusion of this track as well as during "Didn't My Lord Deliver Daniel." Manasia stands out for his muscular and musical solos, especially on the Christmas spiritual "Mary Had a Baby, Yes Lord," and the bluesy "Leaning on the Everlasting Arm." In fact, he almost steals the show. The swing element of "Swing Low, Sweet Chariot" is a playful take on the title and expresses the joy and freedom anticipated in the afterlife.
I wish Giovanni would have graced us with even more of her vocals, maybe read a couple more poems, but if there was one track to be had, I'm glad it was "Night Song."
The Gospel According to Nikki Giovanni is a meaningful meditation on struggle, sacrifice, resilience, liberation, and victory.
Five of Five Stars
Picks: "Night Song," "Wade in the Water"
Written by : Bob Marovich
Bob Marovich is a gospel music historian, author, and radio host. Founder of Journal of Gospel Music blog (formally The Black Gospel Blog) and producer of the Gospel Memories Radio Show.