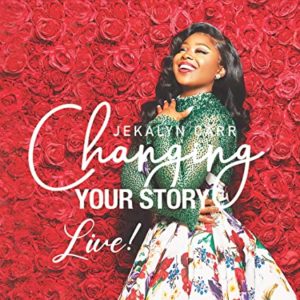 By Bob Marovich
"I wanted to do something different."
That's how multi-GRAMMY Award nominee and Stellar and Dove Awardee Jekalyn Carr describes Changing Your Story Live. Her new album is scheduled for release this Friday, October 23, on Lunjeal Music Group / The Orchard.
The main difference between Changing Your Story Live and her previous releases, Jekalyn told the Journal of Gospel Music, was that it was recorded at an outdoor festival. "We were at Atlanta's Praise in the Park, but it felt like we were in church. People came ready for church! I wanted to capture as much of that experience as I could on the album."
Jekalyn wrote all the songs on the album; as such, each one is personal. "The messages from Jekalyn are always the same," she said, "the revelation for greater. But there is never a song I sing that I don't have a personal experience with the lyrics."
For example, she said she completed the album's second single, "Jehovah Jireh," during a particularly challenging time in her life. "You think: 'Okay, God, things are testing my faith, but because I know your record, I know your history, I know you won't fail me. I know you will show up to be my Jehovah Jireh.'"
The message of "Jehovah Jireh" hit so close to home that Jekalyn became emotional while singing it at the live recording. "There were a lot of things going through my head when I sang that song that night," she said. "Times when everything seemed like they were not going the way they were supposed to go. But God stepped in and showed himself to be Jehovah Jireh."
The single is picking up steam in the marketplace. "That's my goal," Jekalyn said. "I want to give people something they can hold onto, something that can push them over into what God has for them. If a song doesn't do that, I don't want to release it."
"Power of Love," also on Changing Your Story Live, is eerily portentous of the events of 2020. "I don't know what I was feeling at the time," Jekalyn said, "but God knew what was going to happen the entire time. The message I want people to understand is that in the midst of everything negative, we can get amazing things done when we stand together in the power of love."
"Power of Love" became the theme of a virtual GRAMMY event when licensed therapist and media personality Spirit hosted Jekalyn on a September episode of "Positive Vibes Only."
"I honestly didn't know the impact the song would make," Jekalyn exclaimed. "To God be the glory! Every song that God gives me to put out, whether a single or whatever it may be, I want people to grab hold of the message and apply the information."
On whether gospel artists have a special obligation to sing songs that speak to the spirit of the times, Jekalyn remarked: "Gospel music is encouraging within itself. That's the history of our music, so encouragement automatically flows from it. Whether you are a praise and worship artist, a traditional gospel artist, a hip hop gospel artist—we're all going to bring some type of encouragement. I would never hold anybody to one lane. If you want to encourage, encourage. If you want to worship, worship. But the responsibility on us is bigger, because the history of gospel music is encouragement."
While the new album features new material, one former single, "It's Yours," shows up as "It's Yours 2.0." Jekalyn explained how that happened: "That night I was not supposed to sing 'It's Yours,' but I knew the audience wanted to hear it. It was a struggle for a very good minute for me to go into 'Jehovah Jireh' because they would not let it die! I had to literally tell the band, 'Jehovah Jireh!' 'Jehovah Jireh!'"
She added: "There are so many songs and messages on the album that come under the umbrella of 'God is changing your story.' In life, the things you are going through are part of your story, but they are not the end of your story. God has so much more in store for you. Not only does he want to change one area of your life, he wants to change multiple areas. He's not going to stop, he's going to continue to change it for the better."
One thing that hasn't changed is the team behind Jekalyn's music. She and her father produced the album and "with the exception of a few adjustments," she added, "the musicians are the same, the background vocalists are the same. I've had the same people with me for years. Every album, you hear my people."
Even her ministry's organization chart hasn't changed. Everyone in her immediate family is involved in her career. "The Carr legacy is still the same," she said. "It's been a beautiful experience and I wouldn't want to do it with anyone else but my family."
On her maturation as a gospel artist, Jekalyn noted: "I've always been a confident person and a confident artist. But I've also become confident in where God wants me to be in my assignment—where he has me to go and who he brings me to—and I try to operate in that. I've blossomed into who he has created me to be and the areas he wants me in, even when every movement might not be the same. I've learned to not expect this season to be like the last."
She pays her blessings forward by sharing her experience and wisdom with aspiring gospel artists. "I tell them you've got to make sure this is what you're called to do. And you have to make sure you stay covered. If you're not covered, you can definitely get lost. Connect with people who believe in you, who celebrate you when you're right and correct you when you're wrong. Who want you to succeed and don't turn what you do into a competition. That's where confidence comes in. When you're confident, you never feel like you have to compete."
Despite the pandemic and subsequent lockdown, Jekalyn said she is just as busy as ever, albeit doing "many virtual ministry events as opposed to in-person." She laughed: "I've done it so much, I told somebody the other day, 'I'm just tired of me!' But there are also things I'm working outside of music that I'm excited about, and I'll be sharing more about them very soon. I have not slowed down."
Written by : Bob Marovich
Bob Marovich is a gospel music historian, author, and radio host. Founder of Journal of Gospel Music blog (formally The Black Gospel Blog) and producer of the Gospel Memories Radio Show.