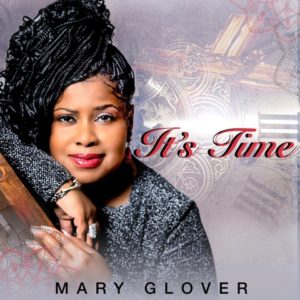 "It's Time"
Mary Glover
Independent (released October 20, 2020)
By Robert M. Marovich
In tone, tempo, and message, Mary Glover's "It's Time" commands people to snap out of it, get right, act right, and be joyful in the Lord.
Glover's sassy and declarative alto, honed in the community of quartet singers, is the ideal vehicle to lift everyone out of their seats and feel the excitement she feels. As such, she evokes other powerhouse gospel singers like Monica Lisa Stevenson, Lemmie Battles, and Lisa Knowles.
From Lima, Ohio, and now living in Cleveland, Glover started singing at age six and cut her teeth in the business as a member of the family group, the Fantastic McLaurine Sisters. As a solo artist, she has earned the title "The Soul Lady of Gospel" and since 2019 has been a lead vocalist for Ambassador Dr. Bobby Jones & the Nashville Super Choir. "It's Time" was produced by Derrick Lee, a Dr. Bobby Jones acolyte who has worked with other shouters like Dorothy Norwood and Beverly Crawford.
Written by : Bob Marovich
Bob Marovich is a gospel music historian, author, and radio host. Founder of Journal of Gospel Music blog (formally The Black Gospel Blog) and producer of the Gospel Memories Radio Show.