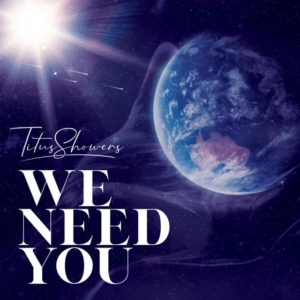 "We Need You"
Titus Showers
A&P Records (release date: January 15, 2021)
By Robert M. Marovich
Alternately balladic and rhythmic, Titus Showers' new single "We Need You" is a passionate, moving entreaty to the Lord to help the world search for peace, regain its faith, and answer the most fundamental question during a time of turmoil: "why?"
Midway through, Titus shifts his prayer from global to local, seeking a word from up above to help resolve the questions troubling his own heart. He recognizes that God is the answer, for him, for everyone.
Co-written by Titus along with Ernest Vaughan and Owen Nixon, "We Need You" is a solid and timely follow-up to Titus's #1 Billboard Gospel Airplay single, the remix of "It's Gonna Be Alright," featuring Jermaine Dolly.
A member of The Showers family band, Titus Showers has appeared on the 2021 Presidential Inauguration Gospel Celebration, the 2020 Stellar Awards, The 700 Club, and BET's Bobby Jones Gospel. For more information, check out JGM's interview with Titus Showers, conducted in 2019.
Written by : Bob Marovich
Bob Marovich is a gospel music historian, author, and radio host. Founder of Journal of Gospel Music blog (formally The Black Gospel Blog) and producer of the Gospel Memories Radio Show.