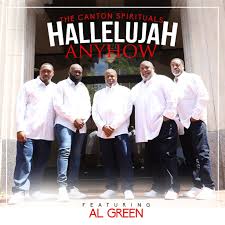 "Hallelujah Anyhow"
Canton Spirituals feat. Al Green
Malaco Music Group
www.malaco.com
By Bob Marovich
Highway 51 links Canton, Mississippi, to Memphis, Tennessee. So does the single "Hallelujah Anyhow," as it links the Canton Spirituals and the Reverend Al Green.
The combo works. Keep in mind that Green came from gospel and, after entering the ministry, went back to gospel, earning GRAMMY Awards for his gospel albums.
A conventional quartet song written by the Canton Spirituals' Harvey Watkins Jr. and producer Stan Jones, "Hallelujah Anyhow" finds Watkins and Green, elder statesmen of church and church music, sharing nonspecific testimonies about illness and other life problems. They instruct listeners to thank the Lord at all times, even (especially) when things don't go their way.
The use of the phrase "Hallelujah Anyhow" in the gospel music lexicon, as far as I know, dates back to the title track of Thomas Whitfield's 1984 Sound of Gospel album, and has been carried forward by the Reverend Dr. Clay Evans and others.
Written by : Bob Marovich
Bob Marovich is a gospel music historian, author, and radio host. Founder of Journal of Gospel Music blog (formally The Black Gospel Blog) and producer of the Gospel Memories Radio Show.