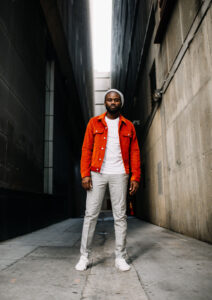 "I've Saved It All"
K-Anthony
Independent (release date: July 8, 2022)
www.kanthonylive.com
By Robert M. Marovich
I hear a Coldplay influence on K-Anthony's "I've Saved It All," from the melody to the mix of instruments to the atmospheric vibe. One difference: it doesn't explode into a million colorful pieces at the conclusion like a Chris Martin arrangement but instead remains quiet, whispery, solemn, introspective.
K-Anthony's smooth singing is suspended in space, his praises to God for grace bestowed and their musical accompaniment echoing in the cosmic vastness surrounding him.
K-Anthony is Kevin Anthony Fowler, a Jamaican artist who grew up on church hymns as well as the R&B sounds of Boyz II Men. Combined with his classical training at uni, K-Anthony has a deft touch with sacred sounds. This song will do better on the CCM side than in gospel.
Written by : Bob Marovich
Bob Marovich is a gospel music historian, author, and radio host. Founder of Journal of Gospel Music blog (formally The Black Gospel Blog) and producer of the Gospel Memories Radio Show.