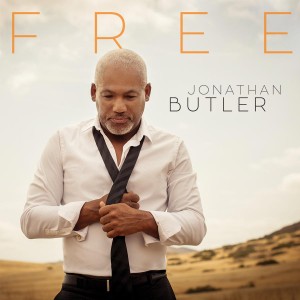 Jonathan Butler
Free
Mack Avenue Records (2015)
www.jonathanbutler.com
By Bob Marovich
Growing up financially poor in Cape Town, South Africa, under the repressive rules of apartheid, Jonathan Butler would certainly be excused if his music expressed unforgiving hate. But what the award-winning musical polymath feels instead, according to his latest inspirational album, Free, is another four-letter word: love.
To love is to be free, so whether voicing his love for God or God's love for every person, as on the zesty "Never Find a Better Love," where God invites his people to "just let me in," Butler keeps agape front and center. The eleven songs on the album blend elements of jazz, pop, rock, old school soul, R&B, and gospel to express this simple but profound emotion.
One way Butler showers his love on the Father is through songs that praise His name in all its historic variations. These include the hypnotic "I Am that I Am" and "He Is God," the latter featuring a big-band arrangement and a brass section that lends the song a dash of Latin fuego. I could listen to an entire album of inspirational songs done in this very manner.  "Where Would I Be Without You" is another loving paean to the Most High.
It is also gratifying to hear Butler pay homage to his home country through music. In fact, the first strains of the album's first selection, "You Are the One," a song that riffs lyrically on the premise of John 3:16, features bold African rhythms. Similarly fueled by polyrhythms, "Sing Africa," with its repeated refrain of "No looking back," is an anthem of hope for the economically- and politically-torn continent.
The Nashville String Machine gives each piece it accompanies more than a touch of silk stocking class, and on "Never Find a Better Love," the strings recall the sultriness of 1970s Philly soul.
The song with the most gospel feel on Free is "Be Encouraged." A whirring organ gives Butler and his background vocalists the churchiness to preach the gospel of hope to a world mired in an age of anxiety. It, like most songs on the album, possesses a lovely melody that demonstrates Butler's skill in tunesmithing, a talent he shares with the album's other composer, Luther Mano Hanes, who wrote "Never Find a Better Love."
Jonathan Butler's Free is optimistic and forward-looking, declaring that love (of God, for others, of God for us) leads to freedom from trouble and fear, whether for the individual or for the collective. It also demonstrates the power that bright melodies and real instruments can bring to inspirational messages.
Four of Five Stars
Picks: "Be Encouraged," "Free."
Written by : Bob Marovich
Bob Marovich is a gospel music historian, author, and radio host. Founder of Journal of Gospel Music blog (formally The Black Gospel Blog) and producer of the Gospel Memories Radio Show.