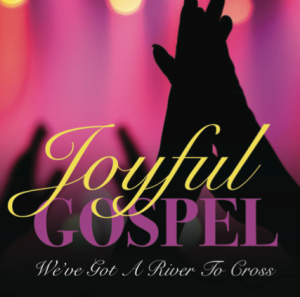 Joyful Gospel
We've Got a River to Cross
Rampart Street Music
www.rampartstreetmusic.com
By Bob Marovich
Although Joyful Gospel gets top billing, the choir we hear on the album We've Got a River to Cross, released on the New Orleans-based label Rampart Street Music, is actually a blend of choral ensembles.
More specifically, it is a combination of the group Joyful and the Spirit of New Orleans Choir, which itself is a conglomeration of members of gospel groups that work with Jamalar Booking Agency in New Orleans.
Not a shouting group by any means, this combined choral group sings with studied elegance, precise articulation, smooth delivery, youthful enthusiasm, and friendly harmonies. Like their accompanying band, the group could easily be studio musicians. Their spit-polished sound is a clear commitment to maintain multicultural appeal. Indeed, they have earned accolades in Europe, where they continue to tour.
The featured soloists are culled from the choir and add the color, the tanginess, the passion that makes gospel gospel. Tim and Ebony Ashmore in particular spice things up with their soulful solos on "You Are a Wonder" and "The Sweetest Most Wonderful Name," respectively. The two duet on a contemporary reading of the church chestnut, "Jesus Loves Me."
Meanwhile, Chandra Grayson drives "I Believe I'll Testify," a selection that moves at praise break speed and also incorporates classic praise break chord changes. Though not from the Spirit of Memphis Choir, Baton Rouge's Kassaundra Garner lends her vocal talent to the P&W-flavored "When We Gather in Your Name."
A majority of the album selections are straightforward contemporary gospel in the Hawkins Family style, though the choir pays brief homage to their New Orleans roots by jazzing up "The Son is Shining My Way." It would have been a treat to hear more of the music heritage of New Orleans in the arrangements.  All of the songs, save the Lionel Richie-penned "Jesus is Love," were written or arranged by the choir's keyboardist, Carolyn D. Shield.
The Spirit of New Orleans Choir was organized out of artists from various gospel groups booked to tour Italy during the Christmas season of 2005. Back stateside, the choir sang for fundraising concerts to help struggling New Orleans musicians and their families in the aftermath of Hurricane Katrina. It was so popular that Jamalar kept the singing group going.
We've Got a River to Cross is pleasant listening from a professional choir that makes the crooked straight and the rough places plain.
Three of Five Stars
Picks: "You Are a Wonder," "I Believe I'll Testify."
Written by : Bob Marovich
Bob Marovich is a gospel music historian, author, and radio host. Founder of Journal of Gospel Music blog (formally The Black Gospel Blog) and producer of the Gospel Memories Radio Show.