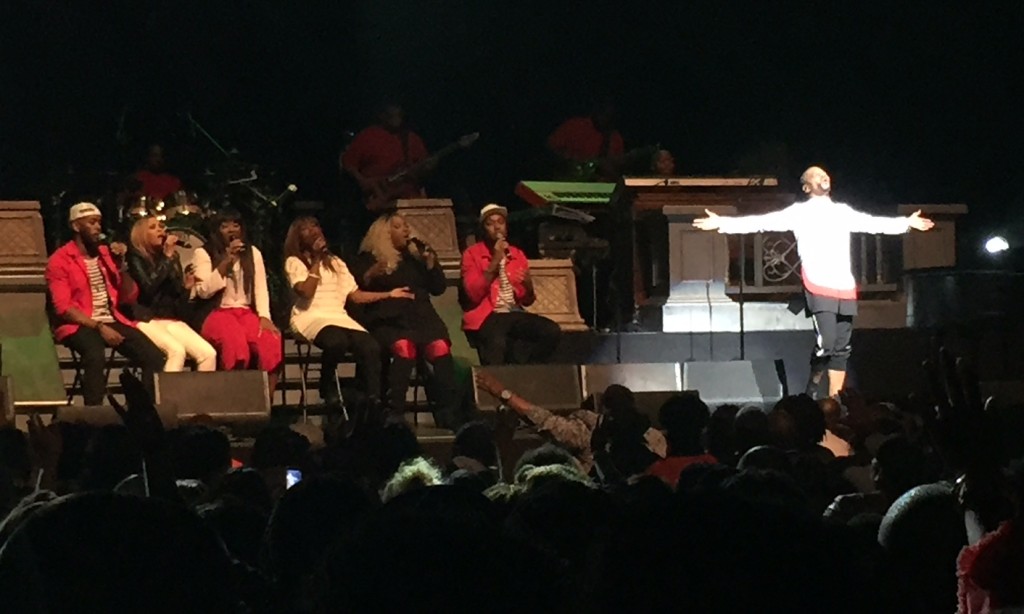 Kirk Franklin brought his "20 Years in One Night" Live Nation Tour to the Chicago Theater, April 1.
By Bob Marovich
Filling two and one-half hours of a concert retrospective with enough familiar songs to keep the audience engaged might be a stretch for many gospel artists, but Kirk Franklin's repertory proved more than sufficient for the task when the the top-selling gospel music artist brought his "20 Years in One Night" tour to the historic Chicago Theater Friday night, April 1.
It's splitting hairs, but really 23 years, since "Why We Sing," from Franklin's 1993 debut album for GospoCentric Records, catapulted the Texas gospel songwriter and choral director into the national spotlight.
The colorful, flamboyant, and multi-generational Franklin brought the crowd out; I could not see an empty seat from my viewpoint. Franklin was himself pleased to see that all creeds, ages, and colors were in attendance, and he was correct: frankly, I hadn't seen so many Caucasians at an African American gospel concert since the Blind Boys of Alabama.
The first half of the program was the livelier of the two. Ever the showman, Franklin darted like a jackrabbit around the stage, at times exhorting like a preacher to his congregation, and other times pantomiming lyrics, clowning for the audience, intermittently dancing with and without choreographed moves, throwing shapes with audience members, and directing the ensemble like a gospelized Cab Calloway.
The thirteen-member ensemble of vocalists and musicians—including brass players—ran through complete versions and medleys of Franklin's gospel hits, including "Down by the Riverside," "Lean On Me," "Brighter Day," "Imagine Me," "Something About the Name Jesus," and some songs going back, as he joked, "before Kirk had his teeth fixed."
Franklin sang every so often, especially on quieter gospel ballads, but mostly, as is his wont, he left the singing to his ever-capable background vocalists, which included Cheryl Fortune, looking quite relieved to be out of the drama and back singing (her solo turn was quite affecting). The more than 3,000 attendees at the Chicago Theater served as a second chorus, impressing the singer himself at one point with their collective spot-on lyricism. "Hosanna" put two of the official vocalists into emotional fits and presented possibly the first time tongues were spoken in Chicago's nearly century-old landmark.
The audience erupted when Tamela Mann made a surprise visit to sing the award-winning "Take Me to the King." She and her husband David were part of Kirk Franklin and The Family before teeth-fixed Kirk. "Without you, there would be no Kirk Franklin," the singer told the couple.
The evening was not given entirely to a stroll down memory lane. Franklin and company presented some of their more recent hits, such as "I Smile." The most poignant moment was Franklin at the piano rendering the superb "Pray for Me" from his new album, Losing My Religion, and JGM's Best Of pick for 2015. At intermission, one audience member asked him to sing the song again, the entire version next time.
Most of the second half of the program was less aerobic, with the group sitting around the piano, singing bits and pieces of familiar tunes, Franklin stopping every so often to share personal stories of growing up and the financial tr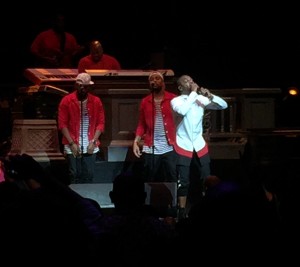 oubles he found himself in last year. The introspection eventually transitioned into "Stomp" for the grand finale.
Though audience members responded gleefully and nostalgically upon hearing opening strains of such church choir stalwarts as "Why We Sing," "Silver and Gold," and "Melodies from Heaven," the songs did not at all sound dated. I'm not sure whether this is because Kirk Franklin's music has aged well or whether gospel hasn't evolved much in the past two decades (I mean, think about how vastly different a 20 year gospel retrospective would sound if it were held, say, in 1970 or 1980). Since I've always maintained Franklin's greatest gift is songwriting, I suspect it is the former.
"20 Years in One Night" was not your standard operating gospel program. No passing parades of "and other guests" appearing with their A and B selections, no constant breaks to explain songs, no church-wrecking testimonies, no emcees killing time with a barrage of church cliches while the band sets up. Precisely paced for maximum impact, "20 Years" had more in common with a pop music concert. But then again, one can argue that Kirk Franklin and the Family introduced the stylized rhythm-and-praise review more than two decades ago, and the new iteration is taking advantage of the energy while it still runs warm in their veins–while clearly showing no signs of slowing.  From any perspective, there's plenty more to smile, stomp, and sing about.