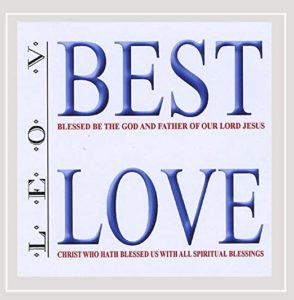 Leo V.
Best Love
Independent (release date: 2009)
https://store.cdbaby.com/cd/leov
By Bob Marovich
Singer-songwriter and musician Leo Valladares, aka Leo V., brings the musical richness of his Latino culture to bear on some of the Christian songs packaged on his 2009 debut CD, Best Love.
Teeing up a Latin beat for "Come Away with Me" and "Lost in Love," Leo twangs notes on the electric guitar in earnest emulation of Carlos Santana. But as a vocalist, Leo evokes a garage band rocker from the 1960s. The team of musicians, which includes Sam Valladares on classical guitar, Eric Robert on keyboards (set to 'warbling organ'), Shane Lance on bass, and Emerson Shotwell on drums, is solid. The players provide the album with its professional polish.
This genteel garage band style is not coincidental. It's what Leo played growing up in Nebraska. Now a Christian and living in Washington State, he has tied religious lyrics to his nostalgic mix of '60s rock and Latin rhythms. The lyrics, as uncomplicated as the arrangements, focus on true love, or the "best love" of the album title and title track. It's about the love of God—"love in the first degree"—and all the spiritual benefits thereof, as well as the love of a spouse as a gift from God ("For this Cause").
Leo V. and Mark Simmons produced Best Love, which is raw, genuine, and understated. Since 2009, Leo has released another CD, The World Can Wait but to my ears, Best Love is the better of the two albums.
Three of Five Stars
Pick: "Come Away with Me"
Written by : Bob Marovich
Bob Marovich is a gospel music historian, author, and radio host. Founder of Journal of Gospel Music blog (formally The Black Gospel Blog) and producer of the Gospel Memories Radio Show.