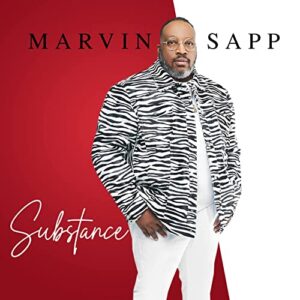 Marvin Sapp
Substance
Elev8 Media & Entertainment / Thirty Tigers (release date: June 10, 2022)
www.marvinsapp.com
By Robert M. Marovich
"There is no failure in God" is an apt summation of the thematic content of Substance, Bishop Marvin Sapp's 15th album and latest solo effort. Though varied in arrangement, the songs essentially come back around to messages of faith in God as the rock in a weary land.
Examples of the album's varied musical palette include "Serve the Lord," which Sapp calls a song "for my mother." It has a smooth modern quartet sound with the classic kick drum backbeat, bluesy vamp, and a pulpit-honed religious message of discipleship. The lead single, "All in Your Hands," opens with a purring organ that signifies a shift from the bright and rhythmic praise pop of the lead track, "Your Way is Better." Its declaration that God can make all things better is aided by a repeated line, "No one better than," that sounds like a church aphorism-in-waiting.
"Rearrange," on the other hand, is an urban R&B ballad with a Kirk Franklin-esque lilt courtesy of a pervasive percussive piano riff and smooth background vocalists. This song, which has radio potential, is God telling his people to not be afraid: "Though you don't understand, it's always in my plan."
"You Kept Me," co-written by Jarmone Davis, who penned Sapp's last hit, "Thank You For It All," is  mainstream Marvin Sapp. It's contemporary and dramatic with a touch of sentimentality, a straightforward message of gratitude from Sapp to God for never having left him. Likewise, "Guarantee" is God's promise that what He has for his people is incontrovertible. With that said, the buoyant "Relax" encourages everyone to let go and let God.
Sapp's vocals on Substance are characteristically muscular and peppered with pastoral interjections, especially during the vamps. There is no new "Never Would Have Make It" on this package—"You Kept Me" is as close as it comes. As a studio album, recorded in Sapp's new Fort Worth, Texas, studio, Substance is missing the electricity of live audience interaction. Nevertheless, the songs are tuneful, well-rendered and finely arranged. Substance is a fine addition to Sapp's estimable catalog.
Four of Five Stars
Picks: "You Kept Me," "Serve the Lord"
Written by : Bob Marovich
Bob Marovich is a gospel music historian, author, and radio host. Founder of Journal of Gospel Music blog (formally The Black Gospel Blog) and producer of the Gospel Memories Radio Show.