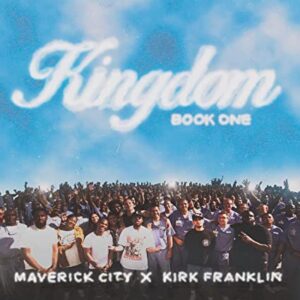 Maverick City x Kirk Franklin
Kingdom Book One
Tribl Records / Fo Yo Soul / RCA Inspiration
(release date: June 17, 2022)
By Robert M. Marovich
Maverick City Music, gospel's current "it" group, joined with the venerable Kirk Franklin, no stranger to special event gospel projects, to bring music and ministry to 1,300 Florida inmates. Kingdom Book One is the result.
Recorded at the Everglades Correctional Institution in Miami, the album showcases MCM / Chandler Moore compositions and Franklin classics, a weary-sounding Franklin punctuating the communal singing and worship with exhortations, preaching moments, and Biblical lessons. Talented vocalists like Naomi Raine, Dante Bowe, Brandon Lake, and Lizzie Morgan lead one big, seemingly improvised praise party with something like a gospel-meets-CCM-meets-Coldplay ambiance.
In its digital format, the 90-plus minute Kingdom Book One shatters the limitations of the 80-minute CD, allowing songs to stretch out, breathe, and expand to new limits. Like the more than ten-minute "Fear is Not My Future," a liquid ballad that bids farewell to fear and hello to hope. Also clocking in at more than ten minutes is the atmospheric "The One You Love," which comes to an eternal conclusion: love never fails. The nineteen-minute concluding piece, "Take Me Back," has a laidback feel, everyone participating in the proceedings like a Wally Fowler all-night sing. The disadvantage of a digital version is that the album's premise of ministering to inmates, absent album notes to describe the setting, can be completely lost on the listener.
The highlights of the album are the Franklin covers, such as "My Life is in Your Hands," during which Franklin himself leads MCM as he did his own group. The selection concludes with an impromptu old-time gospel and hymn singalong, complete with warbling organ. "Melodies from Heaven," "Why We Sing," and "I Smile" are likewise rendered with the warm nostalgia of familiar hymns.
The album aims to raise awareness toward the plight of mass incarceration, and has spawned "The Kingdom Tour," which will hit arenas across the nation through August. The act of remembrance implicit in singing Kirk Franklin catalog songs is the troupe's way of reminding listeners that the inmates, like the songs, must not be forgotten.
Five of Five Stars
Picks: "My Life Is In Your Hands," "Melodies from Heaven," "Fear is Not My Future"
Written by : Bob Marovich
Bob Marovich is a gospel music historian, author, and radio host. Founder of Journal of Gospel Music blog (formally The Black Gospel Blog) and producer of the Gospel Memories Radio Show.