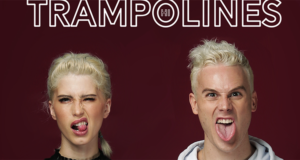 "Meet Me Where I'm At"
Trampolines
(release date: April 22, 2020)
By Bob Marovich
Bristling with hip hop beats and bubbly blasts of EDM, "Meet Me Where I'm At" is a pleading prayer from a troubled disciple who seeks God's guidance and love, only to discover that both are anywhere and everywhere.
Musician/Stuntman/Dancer/Global raconteur Lane Terzieff (Lancifer) and his wife, Cary Terzieff (OhFrikk), aka Trampolines, wrote the song together while in Cambodia doing mission work among victims of sex trafficking. The accompanying video was filmed in Angkor Wat, Cambodia.
Trampolines are a Christian Pop/EDM/Hip-Hop worship band based in Los Angeles. They push the musical envelope while offering messages of hope and encouragement. I mean, how else would a couple who got married on a trampoline sound? This is their debut single as a band.
Written by : Bob Marovich
Bob Marovich is a gospel music historian, author, and radio host. Founder of Journal of Gospel Music blog (formally The Black Gospel Blog) and producer of the Gospel Memories Radio Show.