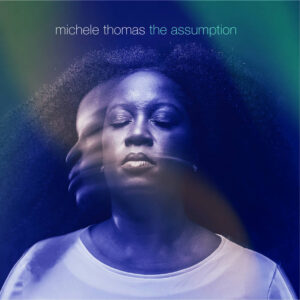 Michele Thomas
The Assumption
Soulstream Music (release date: March 25, 2022)
www.michelethomasmusic.com
By Robert M. Marovich
First of all, the title of The Assumption, jazz singer Michele Thomas's third album, is a play on words. By referencing the Roman Catholic Church's belief (assumption) that Mary, mother of Jesus, departed immediately to heaven upon death, she puts a sacred touch on the project's point: trust.
Second, Thomas combines her experience as a church singer, which included forming the gospel choir at North Park University, with her jazz career. The result is a sound as easy as Sunday morning but with messages that speak to Monday through Friday questions and confusions.
The album is divided into three chapters, or song suites: "The Sapling," "Suite of Erudition," and "The Tree." Together, they track the journey of trust from questioning to understanding. Songs written or co-written by Thomas mingle with familiar compositions from jazz, stage, and rock. They are neither hymns nor gospel songs in the traditional sense but meanderings on navigating life and relationships. The Assumption is a diary whose contents are bared to the public.
The album opens with Hubert Laws and Jon Hendricks' "No More." Thomas declares her freedom from disrespect on the basis of sex, race, and status. The "you" in the self-confident "I Know Because You Told Me So" could be a person or it could be God. Thomas's composition, "These Days," is a bittersweet love poem about her mother and sister, who formed her into the person she is, but both have passed away.
"Plot and Stone" wades into similar territory. Thomas visits her father's grave and reminisces about what appears to have been a complex relationship. Another original, "Dark," is smoldering jazz as affecting art song. Of all the newly-composed selections on The Assumption, this is the one other jazz artists should add to their own repertories. It's the shortest selection on the album but the most provocative.
Thomas adds lyrics to John Coltrane's "Spiral" and does her most skillful and daring singing. She evokes Ella Fitzgerald in her ability to leap from the bottom to the top of the stave and back again within one measure. Notwithstanding this dexterity, Thomas is an intimate artist unafraid to express vocal vulnerability whenever she performs churchy melismatic runs.
"I Carry," an adaptation of an e. e. cummings poem with Davin Youngs as background vocalist, is as close to a pop song as the album gets. The fabulous "Autumn Nocturne," which has its origins with Claude Thornhill, finds Thomas channeling the clarinet-like voice of Sarah Vaughan. It's her sweet spot.
The Assumption is handsomely packaged with enlightening album notes from Lorne Behrman. The six musicians, including co-producer and multi-instrumentalist Darren Scorza, are a tight combo that offer just the right amount of support, while also delivering standout solos throughout the project. The music and lyrics are complex and provocative, but at the same time the sentiments are strangely familiar.
Four of Five Stars
Picks: "Dark," "Spiral"
Written by : Bob Marovich
Bob Marovich is a gospel music historian, author, and radio host. Founder of Journal of Gospel Music blog (formally The Black Gospel Blog) and producer of the Gospel Memories Radio Show.