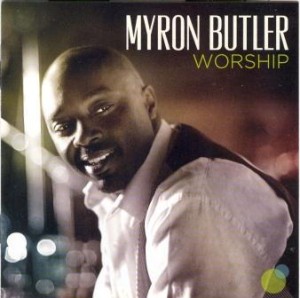 By Bob Marovich for The Black Gospel Blog.
Myron Butler is an award-winning singer, songwriter, worship leader and producer.  He spent time with TBGB recently to talk about his latest CD, Worship, released last month on EMI Gospel.
Born in Bradenton, Florida, the Baptist-bred Butler's first taste of gospel music came, naturally, in church. "Before I ever had a song recorded," he said, "I played for Sunday School." He also directed the church's youth Sunshine Band.
From the start, Butler was inspired by the music of the late Thomas Whitfield. "Thomas Whitfield was where it began," he said. "From his harmonic structure to the way different choral patterns were sung, he was at the nucleus of it all. His music was so ahead of his time, he didn't get the just accolades until after he had passed."
The young singer and keyboardist also soaked in the sounds of Chicago's Thompson Community Singers. "When I was in high school and old enough to drive," he said, "my mom would let me drive her car to school. Instead of taking lunch, I would drive to the record store whenever the new Milton Brunson record came out!"
Butler's love for the choral sound led him to respond to a call to join the Dallas-Fort Worth Mass Choir, then a burgeoning community choir. It was during his tenure with the DFW Mass Choir that Butler met Kirk Franklin, one of its directors.
"After I presented one of my songs at one of the nightly rehearsals," Butler recalled, "Kirk came up to me and said, 'You've got talent and I want to take you up under my wing.' That was the beginning of it all."
Butler became a vocal coach for Kirk Franklin's God's Property. He taught them vocal technique; they taught him spontaneous creativity. "The magic is in the spontaneous creativity," Butler said. "God's Property was a group of gifted singers and musicians. When you taught them something, magic happened during the creative exchange."
Butler describes his songwriting style as "eclectic and passionate, a combination of all of my influences, from jazz to Thomas Whitfield to Kirk Franklin. It's how I hear things."
Several albums and awards later, Butler is now Minister of Music at Bishop T.D. Jakes' famed Potter's House in Dallas. He also just released his latest CD, Worship. Backing him is a choir that includes members of his group, Levi, along with other "hand-picked members."
Butler's main desire was for Worship to contain songs ready-made for Sunday worship service.
Myron Butler sings at
the EMI Gospel showcase
in Nashville last month.
"Music has become so contemporary and progressive that gospel can go into areas it hasn't gone in the past," he said.  "On the flip side, we can't do a lot of the more contemporary and progressive songs on Sunday mornings. I know firsthand that there has to be ample music that worship leaders and praise and worship teams can do, that choirs can do."
To those who find praise and worship music inconsistent with gospel's roots, Butler has this to say. "Music is evolutionary. It's not necessarily that praise and worship is an attempt to forget the roots of gospel. If people will listen intently enough, they will hear a distinct difference between the praise and worship sound of Myron Butler and Kurt Carr, and the praise and worship sound of a Michael W. Smith or Matt Redman. It's not Thomas Dorsey or Clara Ward, but we are not forgetting our forefathers."
Butler and his team are currently in talks with McDonald's to be part of their concert series, where Fred Hammond will be the headliner. They are also releasing a concept video for the single, "Bless the Lord."
With all Butler has accomplished in the world of sacred music, is there one thing he would still like to do?
"My ultimate desire is to do, or be a part of, a movie soundtrack."
Spoken into the atmosphere.
"That's the principle I preach," Butler responded.
For more information, visit http://www.myronbutler.com/.