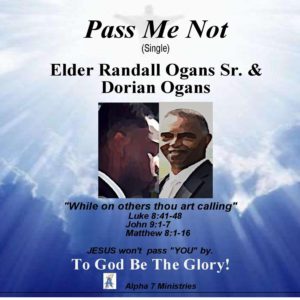 "Pass Me Not"
Elder Randall Ogans Sr. & Dorian Ogans
Alpha 7 Ministries (release date: September 5, 2021)
https://elderrandalloganssr.hearnow.com
By Robert M. Marovich
Gospel jazz artist Elder Randall Ogans Sr. and his equally-talented son Dorian combine their efforts to tastefully update the beloved Fanny Crosby hymn "Pass Me Not."
Dorian's acoustic piano and electric guitar riffs give the hymn a gentle swing that evokes a late-night cafe' jam session, until Randall's organ enters and brings it back to Sunday morning worship.
It's the kind of restful piece you play just before or after service, or at the end of a very busy Sunday.
Written by : Bob Marovich
Bob Marovich is a gospel music historian, author, and radio host. Founder of Journal of Gospel Music blog (formally The Black Gospel Blog) and producer of the Gospel Memories Radio Show.