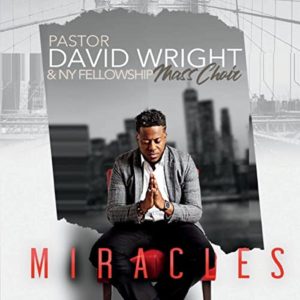 Pastor David Wright & NY Fellowship Mass Choir
Miracles
Godfather Records (release date: July 15, 2021)
www.gracetabernacle.info
By Robert M. Marovich
For fans of contemporary gospel choirs, and especially for those who wonder where the choir went (it hasn't gone anywhere) Pastor David Wright & NY Fellowship Mass Choir's new release, Miracles, will delight.
Although the audience is mostly inaudible, Miracles was recorded live in Brooklyn's Christ Fellowship Baptist Church. The husky-voiced Wright, son of the late Reverend Timothy and Betty Wright, has loaded his new album with feature vocalists. For example, the opener, "Justified," written and led by David Bratton, is, like Bratton's popular "Every Praise," a conventional P&W choir outing designed to rev up the congregation, spiritual aerobics in preparation for worship.
A 180-degree shift from "Justified," "Mighty Long Way" is a joyous traditional rouser anchored by a duet between Wright and quartet maven Keith "Wonderboy" Johnson. Among the many blessings Johnson articulates is how God "brought us from the back of the bus to the front of the bus," and how African Americans have gone from driving the bus to owning the bus.
Other features include BET Sunday Best finalist Pastor Michael Lampkin, who assists on the prayerful and powerful title track / single. Lorraine Stancil-Lawson, a veteran gospel soloist and former member of the famed Angelic Choir of the First Baptist Church of Nutley, New Jersey, sings at full throttle on the majestic "All Hail," a song introduced by Bishop Kevin Bond. A duet with Wright and Earl Jones Jr., "I'm Blessed" harkens back to the gospel choir bangers of the 1990s. "Jesus Never Fails" is David Wright's arrangement of his father's contemporary choir favorite.
"Yes Lord," with its gospel waltz tempo, features churchy-voiced Danielle Kelley. Contralto Brenda Taylor's spritely lead on the spirited "Holy Ghost" is icing on the cake, the cherry on top. "Holy Ghost" could have kept on going but CD space was running short.
Wright's wife Geneatha reprises the P&W ballad he wrote, "Fill This Place," from her own solo recording career. New G lead vocalist Lillian Lloyd offers a squalling, shouting delivery of the up-tempo "Already Done," a fitting lyric complement to "Miracles." Another brisk piece is "Never Alone" (as in "He'll never leave you alone").
Wright's own songwriting, which is featured prominently on the album, has progressively gotten better, and so has the NY Fellowship Mass Choir, fully stepping into its own on Miracles.
Five of Five Stars
Picks: "Mighty Long Way," "Fill This Place," "Already Done"
Written by : Bob Marovich
Bob Marovich is a gospel music historian, author, and radio host. Founder of Journal of Gospel Music blog (formally The Black Gospel Blog) and producer of the Gospel Memories Radio Show.