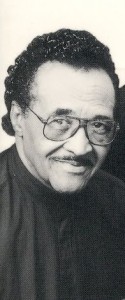 Sarah Alfred of G&A Productions informed TBGB that Major Roberson, longtime member of the Pilgrim Jubilees, passed away. Mr. Roberson had been suffering from a prolonged illness.
D.A. Johnson of Malaco Records contributes the following:
Major Roberson was born to this world on June 11, 1925 in Gunnison, MS and went home to be with the Lord Monday, March 1, 2010, 11:00 PM at his home in Chicago, IL.
Major Roberson was not only a singer, but an accomplished songwriter, having written several songs for the famed group. His most notable songs were "The Old Ship Of Zion," "The Doors Of The Church Are Open," "Church Song," "Don't Let Me Drift Away," "Exit 100," "He Brought Joy To My Soul," "Me My God And I," & "Testify For Jesus."
Major Roberson is survived by his wife Hattie Roberson, several children, a
host of grandchildren and great grandchildren.
Arrangements have been scheduled as follows:
Friday, March 12, 2010 7:00 P.M.
"A Musical Tribute"
Gatling Chapel Annex
10133 S. Halsted St.
Chicago, Il 60628
773-881-4111
Saturday, March 13, 2010
Homegoing Celebration
Visitation: 10-11 AM
Funeral: 11-12 Noon
Greater White Stone MBC
3819 W. Ogden Ave.
Chicago, Il.60623
773-762-4113
For more information, to send flowers or cards of condolences, please
contact:
Gatling's Chapel
10133 S. Halsted St.
Chicago, Il. 60628
773-881-4111 Phone
773-881-3925 Fax
Or
Val Grant 708-841-3319
For more information on the history of The Pilgrim Jubilees, please feel
free to visit www.malaco.com.
Photo credit: Malaco Records
Written by : Bob Marovich
Bob Marovich is a gospel music historian, author, and radio host. Founder of Journal of Gospel Music blog (formally The Black Gospel Blog) and producer of the Gospel Memories Radio Show.